WHITE PEAFOWL and OTHER BIRDS OF A FEATHER

Photos taken by Gay Klok in the Country Garden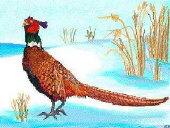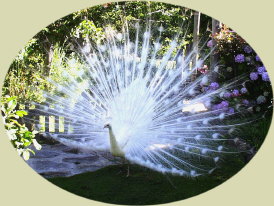 We were sold a pair of white peafowl, but they both turned out to be cocks. It is very difficult to find out the sex of the chicks or even the young birds. They are nearly two years old before they get their tail feathers and then you may be sure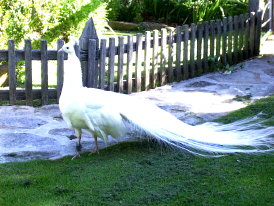 Now they have grown to maturity but are still less friendly than the other peafowl

A Summer photograph. This white peacock remains near this area all the time. I think he thinks his strutting looks good against the Hydrangeas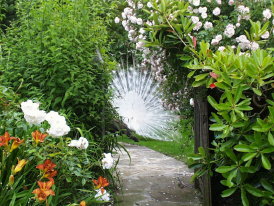 Still on his home ground, still looking for a wife, he now has roses to show off to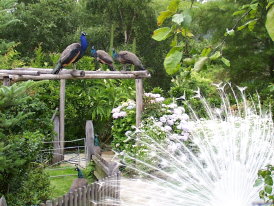 Trying to attract the attention of the "blues", she must be getting very tired!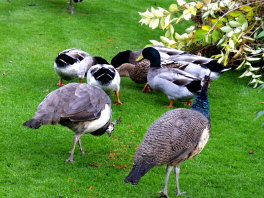 Here are the ducks who have to wait until the peafowl have finished their snacks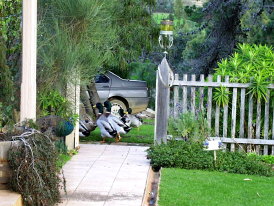 The ducks have been sent on their way, back to the "Big Pond" - where they belong. This is the gateway to the 'cottage garden", Euphorbia on the right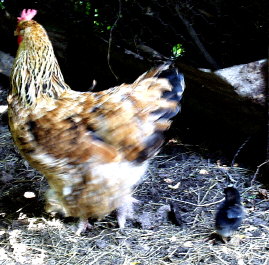 A very bad photo but I wanted to show you that our hens make very good mothers too. As I am writing this our little black hen is sitting on her five chicks. This mum "chook" had seven babies this time

And here is our careless mother bird with husband. They are very loving to one another and always stay close. They roost at night in the large Birch tree in front of the house, one of the few trees that was here when we purchased the property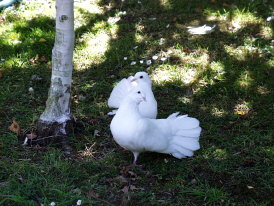 Not to be out done in the loving department, our two white doves are settling in to their new home. These were a christmas present from the same son, Matthew, who gave me our first two peacocks for a January birthday present. They are becoming very fond of one another so we hope.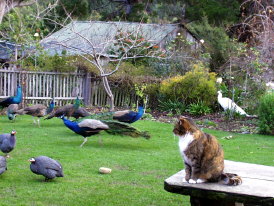 Another mass feeding lunch time, guinea fowl and peafowl are watched carefully by Meg. country cat. A Winter's day, the trees are bare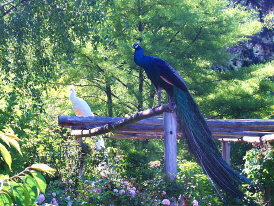 A rare sight, the blue and the white sitting together as evening approaches. Below them are the roses that have escaped their browzing and are in flower at the wrong height for the possums too
If you would like to know more about the Peafowl of "Kibbenjelok", you may read the whole story at my Home Page. Click here
To return to my Welcome Page in Suite101, click here