Photos by Gay Klok taken in the country garden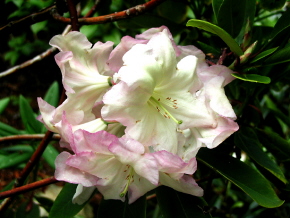 This is a close-up of Rhododendron "Naomi" which has a green throat and is one of the lovliest of the Rhododendrons blooming in mid season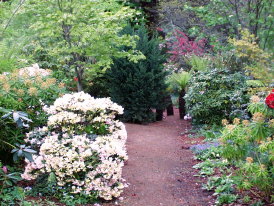 The bottom Rhododendron walk, snake bark Acer on the left beyond the amber flowers of "Alison Johnson' . At the back you can see the Man fern walk with a crab apple in the very back of the photo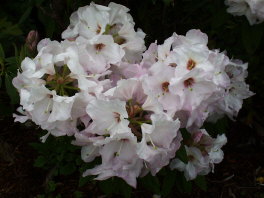 A close up of a Rhododendron "Snow Peak" that you will pass by walking through the Rhododendron gardens



Rhododendrons in the apple tree walk. In the photo you may see the Rhododendron "Countess of Haddington" an old hybrid now but with a most wonderful perfume. The apple trees are in bloom and, on the left the last flowers of a Magnolia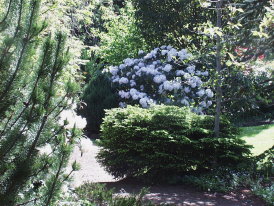 This is a photo of the path you take to the two Rhododendron walks, the Rhododendron is an Australian hybrid, Mt Everest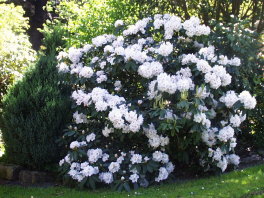 We are getting closer to Mt Everest and it is much easier walking in the garden than actually climbing the mountain!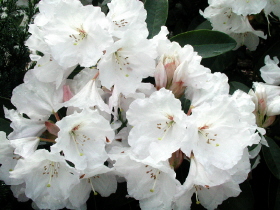 Close-up of the lovely thing. This Rhododendron is about 6 ft tall and will probably never get taller but will get wider and wider. Last year we pruned some branches off to keep it within bounds of its allotted space and as you can see, the cutting has not done it any harm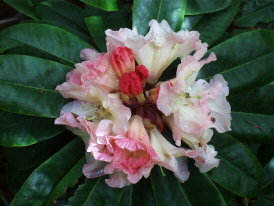 This is a New Zealand Rhododendron from the Homeslee garden. We bought tiny plants back, which were quarantined for 5 months [lost two] and now the three plants that survived are reaching their prime.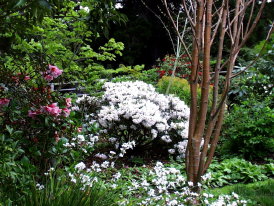 View looking past the orange barked Sorbus to an Acer tree with its Spring lime green leaves and another Countess of Haddington. The pink blooms on the left is another NZ Rhododendron and I will show you the unusual flowers next article, when they have come out properly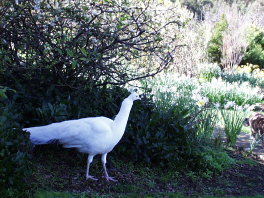 The white peacock enjoys all the white flowers of mid Spring time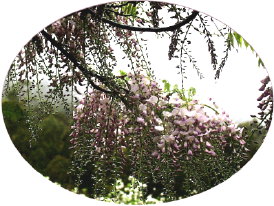 Pink Wisteria taken through the window because outside it is pouring with rain. Above it is the unusual white Wisteria venusta. I first saw this Wisteria in the beautiful garden at Bodnant in Wales and was lucky enough to find a plant for sale in Tasmania

If you would like to discuss any garden matters please use the discussion link from my Welcome Page. I am delighted to discuss all garden matters with you. You will have to become a member of Suite101.com to use the discussion facility. It will cost you nothing to join so think about it. We learn a lot and have fun!
Click here to return to the Welcome Page