THE FIRST ROSE OF SUMMER
Photos taken by your passionate Tasmanian gardener, Gay Klok
December, 1998 - January, 1999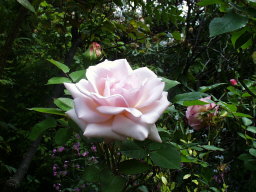 Soft blooms of an old fashioned rose, a hybridT, introduced in 1912, "Ophelia", can be found in many old gardens and still delight the eye. The perfectly formed flowers are delightful to use in a vase and it is a definite repeat flowerer. Named after the tragic character in Shakespeare's play "Hamlet"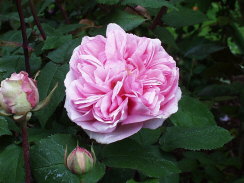 A David Austin rose with a very pleasing scent, "Mary Rose" is not so purple as shown in this photo, it is a rose-pink and has a delicate perfume. The rose will be in flower over a long time and are borne at the end of long, arching shoots. It is named after the sunken ship of HenryV111of England which was raised from the bottom of the Solent River, 400 years after it sank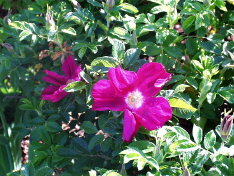 The flower buds of the Rugosa rose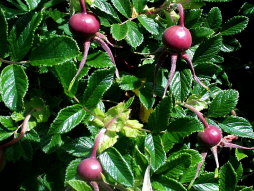 Rose heps are beginning to colour on the Rugosa rose. The heps give wonderful brilliant colour to your Winter garden and that is why I love to grow the roses that share them with you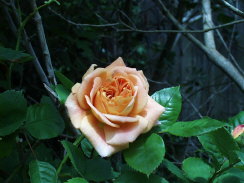 "Charles Austin", an English rose, growing against the 100 year old barn wall. The photo makes the rose centre too pointed, it is really a many petalled and flat centred rose. Perfume is fruity and if pruned will keep flowering all through summer, although it is one of the first rose to come into flower
This rose was growing in the country garden, perhaps a 1930's rose???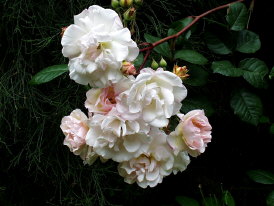 This is "Penelope" growing against a pillar. Healthy and quite vigorous, the rose will bloom right through Summer and Autumn. The hips are a pink-green. Useful for growing over fences or walls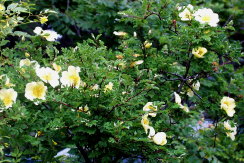 "Canary Bird" the first rose to bloom, will give you joy for many weeks in Spring The arching shoots are covered with the bright, yellow flowers and have a gentle perfume. It grows best with plenty of room for the long shoots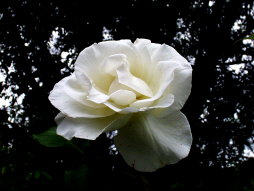 A beautiful white rose also growing in the country garden, the buds are perfect for a bridal bouquet Another unnamed one. Can you help???? Again, I imagine it would date from the first half of the C19th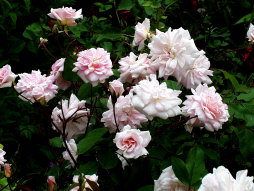 We all know the dear little button hole rose "Cecil Brunner". It probably has its origins in Asia. Long living and long blooming, this is an ideal, healthy rose for small gardens. A picked bunch of "Cecils" surrounded by lavender, will give you a perfect Victorian posy in a matter of seconds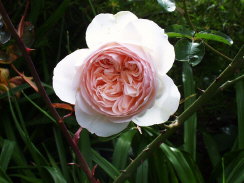 Another perfectly formed rose head of "Perdita", the rose's name means "abandoned one" and was after the character in Shakespeare's comedy "A Winter's Tale". Short bush, it continuously flowers through until Autumn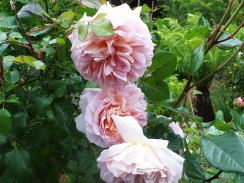 "Abraham Derby" huge blooms grow up a pillar along the path to the Camellia circle and has a strong and delicious scent. It is supposed to be strong and resistant to diseases but I find it seems to welcome black spot
Look closely here and you may see the white peacock talking to a green peahen [ a fence in between them] with the rose "Sea Foam" tumbling between them that is covering a large area of the fence with myriad of blooms. It is in flower for a very long time and is often used as a weeping standard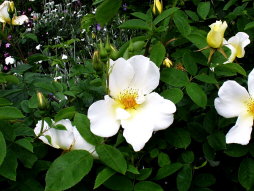 "Golden Wings" is liked very much by Kees and looks like a more pale yellow form of "Mermaid" BUT without the evil, poisonous thorns, though it has thorns. If kept dead headed it will keep flowering with a light, pleasant perfume. Although the saucer-like blooms look delicate, it will withstand rough weather quite well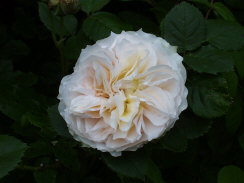 "Boule de Neige" is one of my favorites. It grows to 5 ft and has posy-like flowers of soft creamy white. You can always smell the strong fragrance. Unfortunately, it is not repeat flowering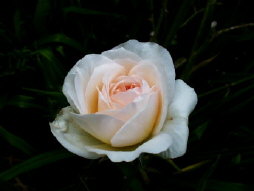 Even the small blemishes on one petal cannot spoil the beauty of this softly unfurling rose, it just makes it human!!!
The roses I have chosen to show you are mostly delicate colouring. Although we do have reds growing, I have to admit to a liking of the apricots and pale pinks and whites. If you have any questions on any gardening matter or would like to make your own observation, please use the discussion link. I would be delighted to hear from you. If you are able to help me name the roses that were in the gardens when we purchased, I would be very happy!
This link will take you back to my welcome page
---