PERENNIALS AND OTHERS BEGIN THE SUMMER SHOW
Photos taken in the gardens of Gay and Kees during December 1998
by Gay Klok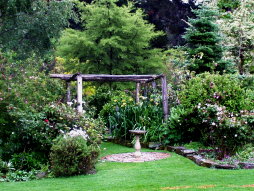 The trees are now in full leaf and the roses are just beginning to bloom. Next article I will show you photos of some lovely roses that are in flower now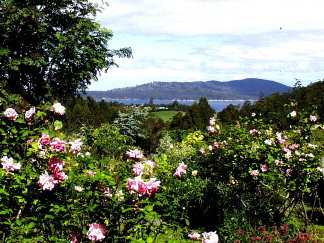 This photo is taken out of the sun room window, a Rowan tree is on the left just beginning to get its berries to feed the birds in Winter. if you look carefully you might see the great sandy beach on Bruny Island
There are varieties of Iris sibirica, growing in neat clumps brightening up many parts of the garden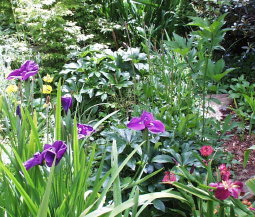 In another area the Sibirica Iris join forces with Rogersias and Louisiana Iris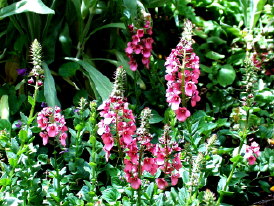 Diascia rigescens will flower in the border for several months if the dead heads are cut back to ground level to allow new shoots to shoot up and bloom again in Fall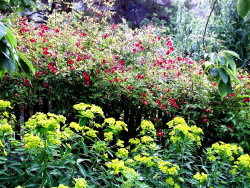 Euphorbia and Rosa "Bloomfield Courage" grow on two sides of the picket fence in the Cottage Garden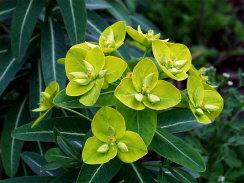 Close up of the marvellous colour in the bracts of Euphorbia schillingii, a frost hardy, clump making Euphorbia found in nepal by Ted Schilling only in 1975. They are seeding prolifically in the Cottage Garden
Unusual colour in a Louisianna Iris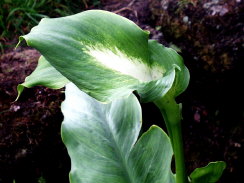 This is the flower of the Arum lily "Green Goddess" Every flower seems to be splotched with white in a slightly different manner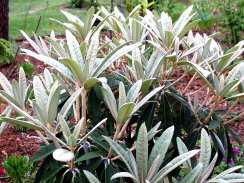 The earlier flowering Rhododendrons are now growing their beautiful new leaves, this is one of the many sp Rh yakushimanum and the new, silver leaves are as beautiful as its flowers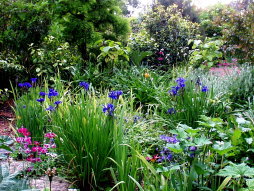 This picture shows Iris, a glimpse of Primulas and Crambe beginning to send up its huge shoots. In the background you may see the rare Larix "Julian's Weeper"
The red Tea-tree, leptospermum, has been in flower since late Winter. You can also see the white gladiolus x colvillei "The Bride" [a small variety] and behind them Primula and to the right Gleditsia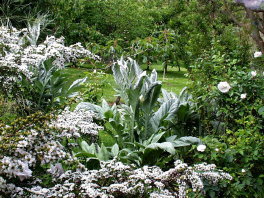 Ornamental artichokes leaves have reached waist high and the white bush on the left [looks like a tea-tree but I have forgotten its name] grows in tiered branches and the rose is "Iceberg"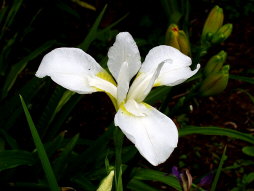 This is a white Iris stylosa waiting to blend with the Daylillies in the background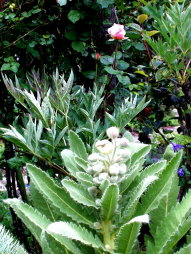 More grey leaves, this time they belong to the Meconopsis with its flower buds just begining to show and Tree Paeonia leaves behind
If you would like to hear more about these plants, please leave a message in the discussion area. I really enjoy hearing from you and will answer any questions, if I know the answer! If I don't, we can ask any of the 40 other garden editors to help us.
To get back to my Welcome Page, please click here. You may care to see more photos of the gardens in my other articles