GARDENS INCLUDING PONDS and BIRCH WOOD
Photographs by Gay Klok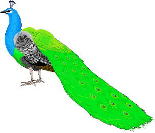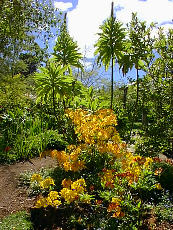 We have come back along the first path we took to go around the side of the house. We could have gone straight on and turned right but this way is faster and we get different views.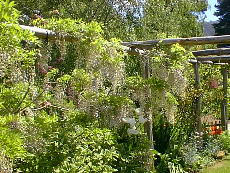 Now we are walking under the pink Wisteria wood colonnade. There are are climbing roses here but the possums and peafowl eat them. They leave the Wisteria alone!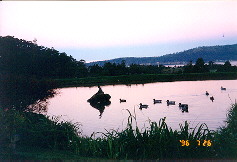 As it is getting late, we had better call it a day and start the second tour in the morning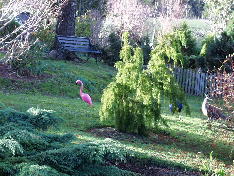 A surprise in the new day, a visitor has flown in from the United States. She looks as though she is heading for the "Big Pond", closely followed by the peafowls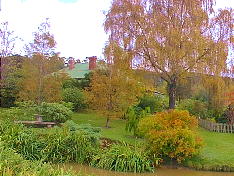 If we had been looking at the garden last Autumn, this is what we would see from the pond bank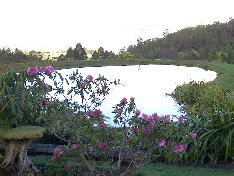 We could sit on the home made seat for a while and see if we can see the trout rising in the pond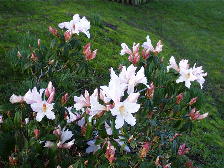 We see this lovely sp. Rhododendron growing on the bank, under the old Birch tree

Looking back at the old Birch tree now. We had to do a lot of surgery on the tree and it is now a lovely shape

The steers and silver Pear trees at the beginning of the mini Birch wood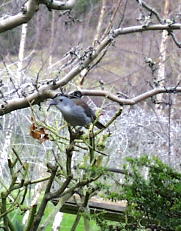 We dashed inside for a quick coffee and the tame "Dick Witty", the silver thrush, came to stare at us through the windows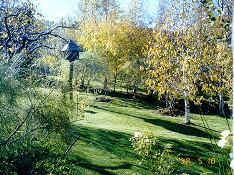 We are now walking in amongst the Birches to take "Dick Witty" some seeds to eat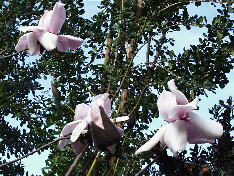 A few close ups of the blooms we have noticed of particular merit during our Garden tour, firstly the Magnolia with the huge blooms, M campbellii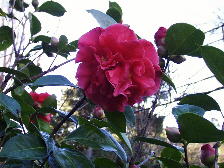 This Camellia challenges it for the size of blooms

The Michelia doltsopa caught my eye, how about you?

There is very much more to see in the gardens but it is time to leave the gardens. Over the months you may see how the gardens grow by following my articles. I would love to hear how you enjoyed this stroll through "Kibbenjelok" gardens and discuss anything with you. To ask me a question in the discussion areas, you will have to join Suite101. It costs you nothing and we guarantee your privacy. We would love you to join in our fun and our learning experiences
Here is the link to return to my article