HYDRANGEAS , the useful performers of the Summer Garden Border Garden


Photos taken in the Country Garden "Kibbenjelok" by Gay Klok with her faithful digital camera
late January, February 1999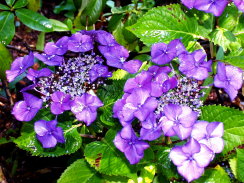 There are many forms of the hydrangea. The vivid blue is caused by the acid soil that this one is growing in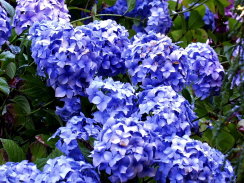 Growing with Rhododendrons and Acers, this photo shows another that relishes the acid conditions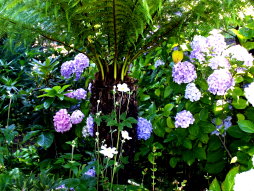 In this photo, we see one bush with different coloured flowers. A change of soil from one lot of roots to another? I don't know the answer but I do know that it enjoys the shade from the manfern, Dicksonia antartica. The Japanese anemones are just beginning to flower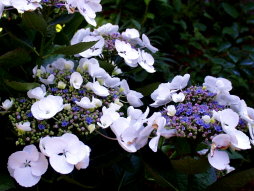 A particular favorite of mine, this is a French hybrid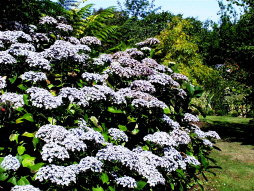 These seem to be not sure what colour they should be and are a steel blue in consequence but look good in contrast to the yellow leaves of the golden elm tree




This hydrangea is just beginning to flower and as the blooms age over several weeks, it will become as blue as the one below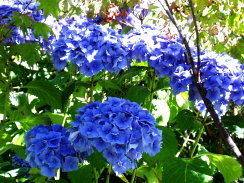 We do not add iron to the soil, this is as blue as this because of the nature of the earth it grows in

I cannot resist the lovely green shade of the H paniculata but the bush is really very scruffy looking for most of the year. It really appreciates a good prune in early Spring
I am showing this picture because of the special Chinese hydrangea in front - H serrata chinensis which has turned out to be quite disappointing. The description stated that it would have bluish pink flowers with several ray florets throughout the fertile flower heads. It has just begun to flower, its first year. Perhaps it will be more exciting in a couple of weeks.


Another form of flower heads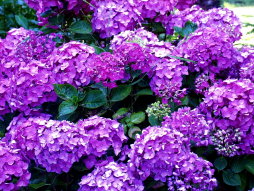 This picture does not lie, this is the real shade of this Hydrangea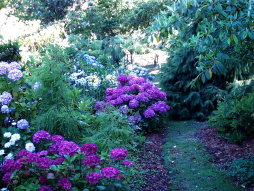 Here you can see it with a small weeping Larex. Japanese Anemones and an Acer tree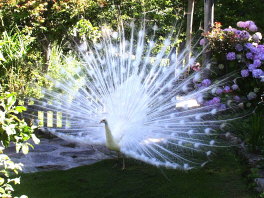 This white peacock lives in this part of the garden. The consequence is that the hydrangeas are pink to compliment his feathers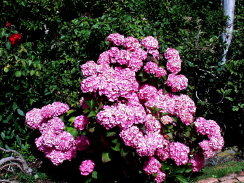 Pink as can be in the cottage garden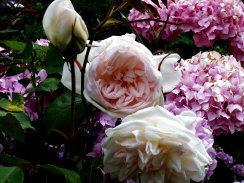 Hydrangeas and roses blend together. The soil is alkaline for the rose bush, therefore the hydrangea is pink

As you can see the hydrangeas are very useful to bring colour to the late summer garden. As Autumn approaches they will turn to shades of green and rose.
To get back to my welcome page click here