THE GARDEN DREAMS OF GAY AND KEES COME TO FRUITION

Photos by Gay Klok, all taken in the garden of our progressing dream.

"Kibbenjelok" Middleton Tasmania Australia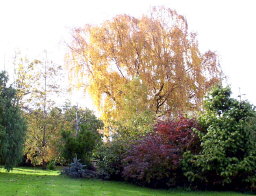 First I will show the many moods of the "Big Pond Cinderella" depicted in photos I have taken over the last years. I start with the dyke bank that broke three times before we all got it right and the bank manager settled down and the plants started to grow and hold the bank together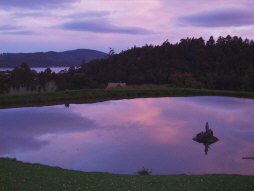 Sunset in Autumn. We built the pond here so that the view of the Channel would appear to be closer to the gardens. It was an experiment that worked.

Taken last weekend, May 1999, also our Autumn time, the leaves of the old Birch tree make a carpet on the water in the iris corner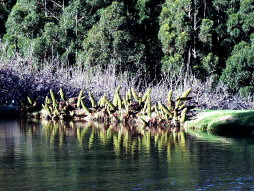 At the other end of the pond, the Gunnera seed heads give a prehistoric feel, apple trees behind and natural bush behind them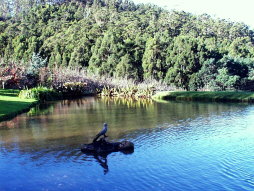 The "Black Cockatoo" sits on natural rocks that we dragged out of the bush and keeps watch over the Channel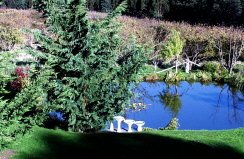 Three breaks in the wall meant three small ponds below the "Big Pond", wich were dug to get the clay to build the walls. I call these the "Ugly Sisters" This is No.2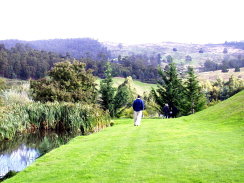 On the left the first "Ugly Sister" full of Bulrushes that are waiting to be thinned out because if left alone, in no time they will fill the whole pond. The second "Ugly Sister" is in front of my son-in-law and these two ponds are joined by a causeway through which water is pumped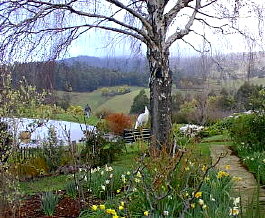 Daffodils in Spring time, white precock standing on the garden seat looking for life in the Big Pond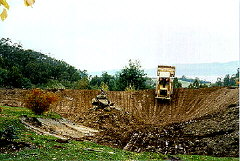 This is how it looked when we were building the Pond. Noise and mud for several weeks!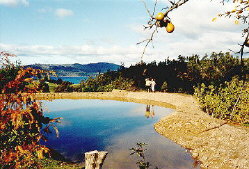 Noise finished, the first morning after the water went in, you can see on the right how apple trees grew right up to the edge of the bank [see first photo] - the bank that kept breaking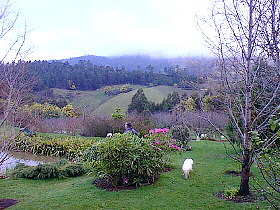 A misty late Spring day, white peacock grazing on the lawn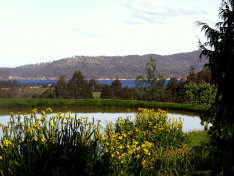 The Water Iris becoming a bit of a nuisance, three years later!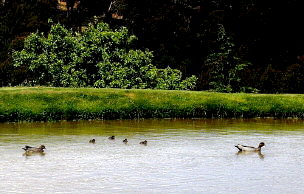 Native Woodducks or Maned Geese are very glad that we built our Dream Water Gardens and so
are we!
You may like to see the full story of the building of he "Big Pond" in one of the chapters of my Home Page which tells you all about the creation of our Dream Garden of Eden. The landscaping is going on around the "Ugly Sisters" but the planting will remain simple around the "Big Pond Cinderella" so as not to interrupt the view.

Return link to Suite101.com and my Welcome Page