CAMELLIAS and AZALEAS TAKE OVER THE TOWN GARDEN
Photographs taken in the Town garden in September 1998 by Gay Klok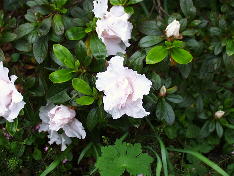 This Azalea indica is the sofest shell-pink. I think the name is "Ballerina"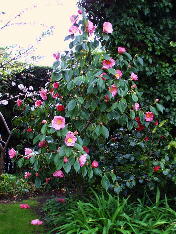 Camellia reticulata "Buddha" growing under the Ivy tree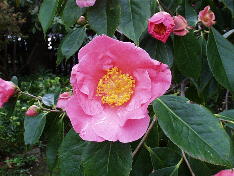 Close up of "Buddha"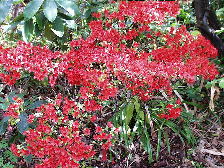 The kurume Azaleas covers the bush in small flowers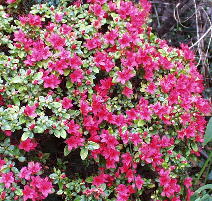 There are many shades in the kurumes from white to dark red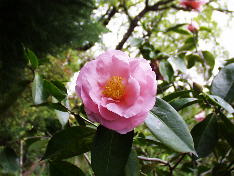 "Lila Naff", a chance seedling of woderful beauty, a reticulata the flowers measure
5 1/2 inches, colour silvery-pink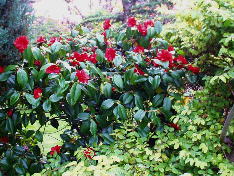 An French japonica, "Adolphe Audusson gives strong colour in the garden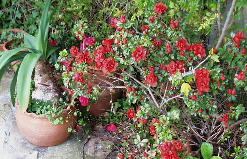 An evergreen Azalea called "Mother's Day"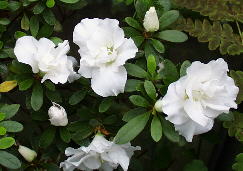 Beautiful white blooms with a green eye make this Azalea indica very beautiful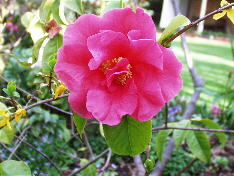 This is a New Zealand Camellia, bought at an auction, unnamed, any suggestions?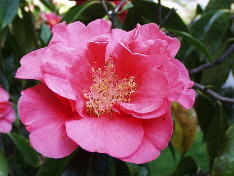 Camellia japonica "Lady Clare" had flowers at least 5 inches across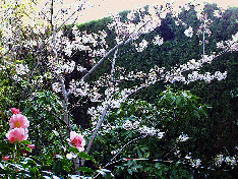 Japanese cherry tree and Camellias look great together
This is very interesting and I hope you can see it. I was taking photos for this
page and noticed that the edges of this one flower [amongst many] was very
serrated. All the other blooms are smooth around the edges!
"Betty Cuthbert"
Please feel free to ask me any questions about these plants using the discussions link. You may only use this area if you are a member of Suite101.com, so think about joining our vigorous garden group. It doesn't cost you anything and we not only learn a lot, we have fun as well
To return to my article and the list of previous articles with lots of photos of the two gardens please click here