GARDEN IN THE RAIN
Photos taken by Gay Klok at the end of Open day, October 3rd, 1998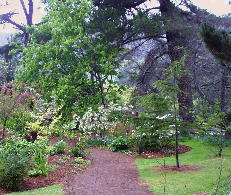 This is the path the visitor first takes on entering the "Orchard garden" The distant tree is a Horse Chestnut and you may also see a Japanese cherry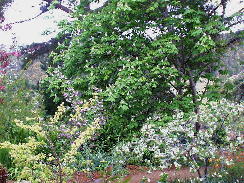 Close up of Horse Chestnut and "Ukon" cherry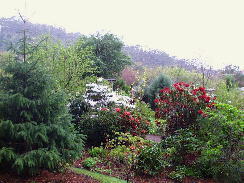 Looking left as we walk down the path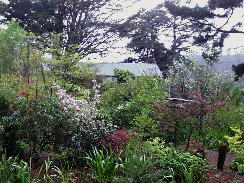 We are moving into the garden, the old barn in the background and cherry trees and an old pear tree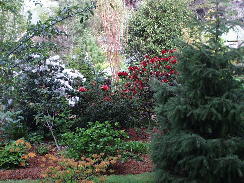 Further along the grass path we start to see the Rhododendrons
A close up of the Rhododendrons, the white is "Decorum"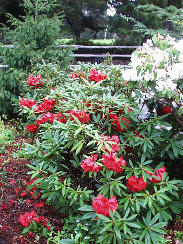 And the red Rhododendron "Grace"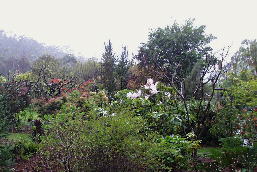 In the middle we are looking over towards the house. See how stormy the sky looks!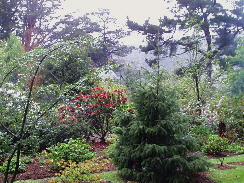 Looking right down the second Rhododendron border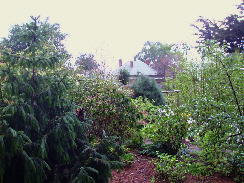 The chimneys of the house and more conifers, the old Birch tree seen right in the back of the picture is the Birch tree near the "Big Pond" See photos in other articles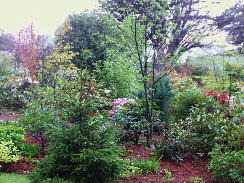 And now we are right in the middle of the Rhododendron gardens. Notice how the orange bark of the Sorbus tree stands out in the rain. See pink Rhododendron in the middle of the picture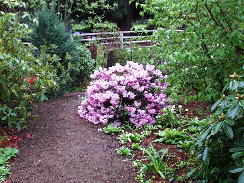 Rhododendron "Tom Collins"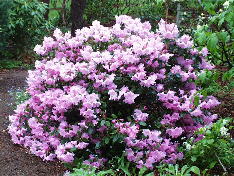 This Rhododendron sits very neatly in a hump on the corner of two paths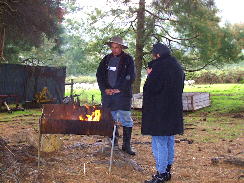 The end of the day, hard working family, miserable and cold!!!
To return to the article Garden of Joy and Sorrow click here