"KIBBENJELOK'. the country house and garden

The photos taken of the interiors during May 2000 by Gay Klok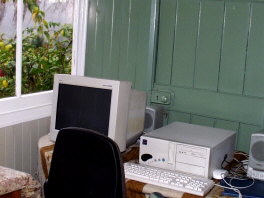 This is where I sometimes write the articles for Suite101.com. on a rainy day. My old computer is not connected to Internet, so it is only a working computer!


This is the view I see out the verandah windows as I am working. All these photos were taken on the same day, a wet, gloomy late Autumn day. You should be able to see the "Big Pond Cinderella" and the "Channel" water, the mist prevents this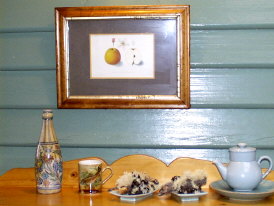 This is what I gaze at when I am trying to think what my article will be about. The old print is the sections of an apple - the frame is made from the famous Huon Pine wood, endemic to Tasmania. I couldn't resist it as "Kibbenjelok" is an old apple orchard with 2000 apple trees feeding the birds


This is half of the verandah. Originally this was part of the outside bullnose verandah and is now our favorite room. The verandah still exists on the other three sides of the house. My computer is around a corner on the far right, the book case is where you see the photo of the dissected apple in Photo three


We have turned around to see the other half. Hats on the wall for protection on the right hand back. These are a must in the Tasmanian climate. The white door leads to the bathroom and the glass doors on the left lead to bedroom No. 1


These chairs are used by Gay and Kees to eat their lunch and watch and record visits by the native birds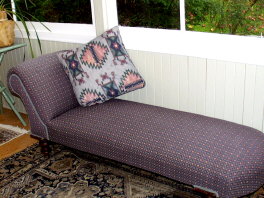 This is the sofa where Gay reads her novels or takes her afternoon naps. Ha! Ha! Ha!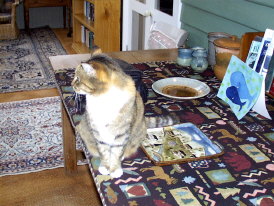 The only thing likely to be found snoozing is "Nutmeg" our farm cat. Nutmeg stays at "Kibbenjelok" when we return to town. The painting of the two whales is the card our daughter made for us on our 40th Wedding Anniversary. Was she referring to our plumpness? Or our free spirits. That will remain a mystery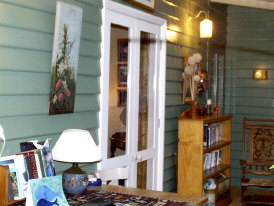 I am showing this closer view to show you [sort of] the painting on the wall of Tasmanian native wild flowers. Painted on wood in 1923, we found this in the rubbish up top of the two story old barn.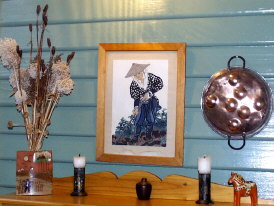 A few memories. The print of the Chinese garden belonged to Kitty Henry whom I have written about in my past Suite article "A Lady Gardener". The wooden horse is from Scandinavia which I visited before I was married. Kees and I met on the boat going to Europe prior to this trip. Can you tell me what the copper "thing" is used for?
Write me a letter! Discuss anything! Join up It cost nothing! Have
Fun! Get Information! Give me Information!
Link back to Tasmanian Garden Journal