HYDRANGEAS, LILIES and other Flowers of Summer

Photos taken in the gardens of and by Gay Klok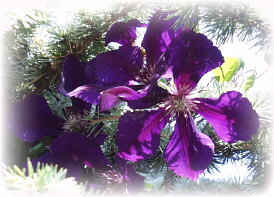 Close-up of the flower of the red leaf tea-tree, Leptospernum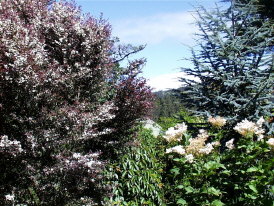 The tree has grown enormously this year. Here it is in situ with a giant "Crambe" on the right


A closer view of the giant "Crambe' with its attractive large leaves




Summer is also the time for the various Abutalons. This and the following photo is A x hybridum, the "Chinese Lantern"


A lovely soft pale yellow. These Abutalons have enjoyed our warm than usual summer and because of the mild weather could be in flower up to three months, until nearly Winter time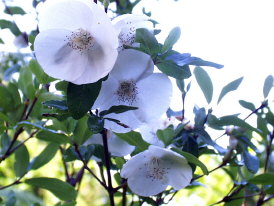 Another Southern Hemisphere native, the Eucryphia flowers from mid summer through to Autumn. The Eucryphia lucida is known as "Leatherwood" in its native Tasmania and the famous Leatherwood honey is gathered by the bees. A professional honey maker keeps many hives on the edge of our bush but the honey from these hives is called "Clover Honey". From the amount of bees that are in our gardens, it would be more appropriate to call it Rhododendron Honey or Rose Honey or Mixed Perennials Honey. He does sell "Leatherwood Honey" but these hives are left in the bush much further South than our property


The pink Eucryphia is a sport that was found in Tasmanian bush, only a few years
ago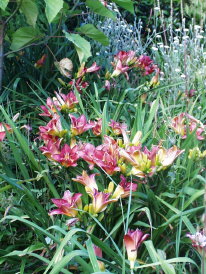 Daylilies are so easy to grow and propagate. We usually end up with too many plants, perhaps we should learn to consider them a vegetable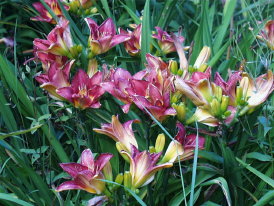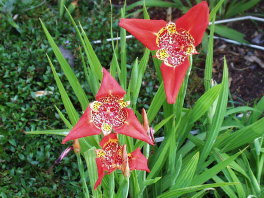 The Tigridia pavonia lily, known as "Jockey Caps" for obvious reasons, is another easy plant that grows from a corm and multiplies quite rapidly. Obtainable in white, pink and yellow, I unfortunately only grow this pillar box type. Like the Day Lily, the flowers only last one day but they keep on coming for quite a few weeks.



A true lily. Who can resist the purity of this lovely flower?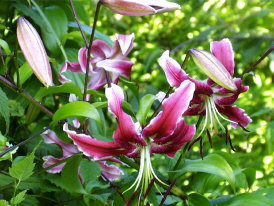 The true lilies, this time an Asiatic, perfume the Summer garden. I love all lilies but hate the way that the ones I love the best visit me for a couple of years and then seem to vanish!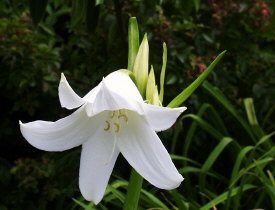 Is this another lily? You tell me - look in discussions, "Guess This, February 2000" !


Here is the link to my Welcome Page. Would you like to sign my Guest Book ? Or better still, leave me a note in my Discussion area? I would love to hear from you! Do you want to know any more about the flowers in my photos or the garden? Would you like to join us in the fun we have by becoming a member of the Suite? Or would you like to tell me about your garden? Take the plunge and click the balloon on my Welcome Page!