MOMENTS OF BEAUTY IN THE SPRING GARDEN

Photos taken by Gay Klok as she strolled around the garden at "Kibbenjelok" in Spring Time
October 1999


Come for a stroll with me and pause a while from your busy life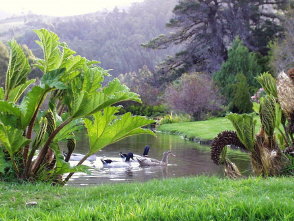 Down to the pond to admire the fresh leaves of the huge Rhubarb, Gunnera. Did you bring the bread to feed the lazy ducks?


We have moved from the pond to the mini Birch wood and here you may see the Spanish Bridal broom, the apple trees coming into flower and the birches, just getting their new leaves




Apple tree [Tasman], bird bath and the first orange deciduous Azalea blooming under the Silver pear trees. The Snowflakes, naturalizing in the grass are just finishing. The white trunk is a young Birch tree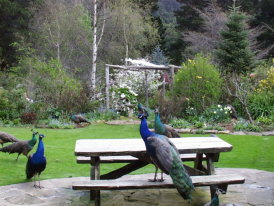 We are about to move into the "Home Orchard Garden" and find the peafowl waiting for their lunch of cat biscuits, so let us sit for a while and have some lamingtons and coffee. The white blossom is the Amelanchier in full bloom


The massed red Rhododendrons will soon finish, this is "Unknown Warrior" but we can't go too close because the bush is covered in bees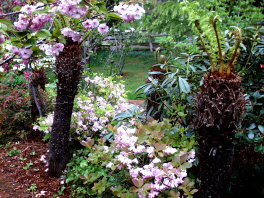 Moving further into the "Home Orchard garden" we pause to admire the Rhododendron "Schlippenbachii" and watch the tree ferns unfold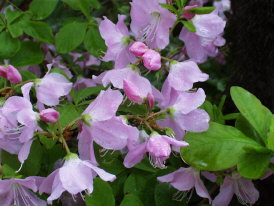 We are able to take a close look at the Schlippenbachii as the bees have not found it yet. I admire these very much, their new leaves are a lovely red-brown and they give great Autumn colour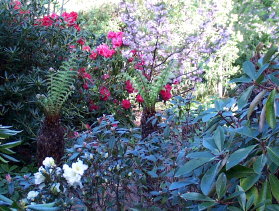 If we turn around we can see more of the mass plantings of the red Rhododendrons, a cherry tree still in blossom and more Rhododendrons to come



We must stop for a while here, because the perfume from Rhododendron "Countess of Haddington" is so wonderful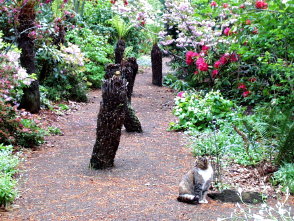 Calico, the country cat, has come to tell us she is hungry but she also likes to look around the garden



So, let us go back to the house for some Pavlova and tea. Next week, the trees will be in leaf and I will not be able to take this photo, the house will have vanished


If you have enjoyed this stroll, do let me know by leaving a note in the discussion area of my Welcome Page. There are more walks through the two gardens attached to old articles,
Come again, we love visitors to our gardens!