Spring has come to the Town Garden
by Gay Klok
All the photographs are taken in the Town Garden
using a digital camera
Olympus D- 200 L
The tree paeoney imitates a rose except the flowers are 8 inches wide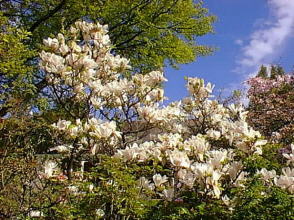 The white Magnolia soulangeana holds up its branches to the blue Spring sky
This is one of my favorite early specie Rhododendron
I have lost the name and would be very glad if
anyone could help me name it. Two clues -
The perfume nearly knocks you out and
I think it belong to the many sp maddenii
and the name may start with C!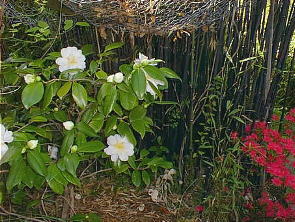 The old white Camellia alba simplex that still holds its own
Evergreen Azalea indica on the right and the huge clump of
black Bamboo behind. The netting above has been dragged
low by various Clematis climbers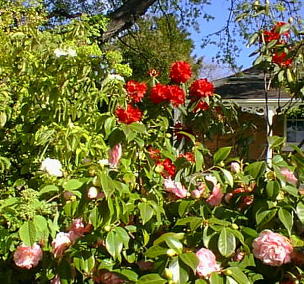 Rhododendron "Bibiani" is a deep scarlet [not shown properly in photo]
The pink Camellia is "Debutante" and if you look closely you can
just see the immature green flowers of Viburnum grandiflora
The corner of the verandah in front of the house in background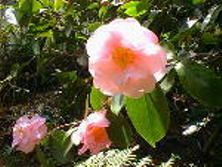 Camellia "Lady Clare" covers itself with huge pink
flowers in early Spring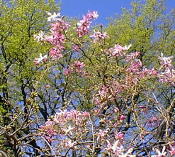 The flowers of Magnolia stellata rosea show up against
the lime green leaves of the 150 year English Quercus robur
This unnamed New Zealand Camellia was purchased at an Auction sale
and we have never regretted it. It can hold its own in the front rank
The sundial was in the garden that my mother lost in the terrible
bush fires that burnt over 1/3 of Tasmania in 1967. Hunting through
the rubble next morning, the sundial was the only relic we could find
As there was an empty plinth in the garden when we purchased the
town house, my mother gave it as a House Warming present
Its an ill wind that -----
I do hope you have enjoyed the stroll along the old convict brick path
If you have any questions to ask me about the gardens or plants please post a
message at the bottom of my article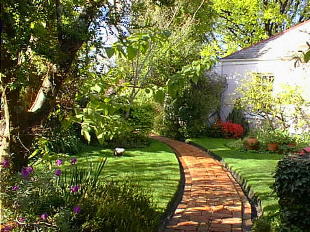 Good-bye until next month!
This page created with Netscape Navigator Gold