ROSES PHOTOGRAPHED IN THE KLOK'S TASMANIAN GARDENS
in late February [late Summer] 2000, taken by Gay Klok
These photos are dedicated to the memory of Mark Whitelaw, who was the rose editor in Suite101.com
"A Garden is a Living Thing"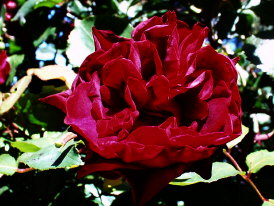 This is a beautiful old rose [probably 1930's] that was in the garden when we purchased the country garden. I have no idea of its name, it is a beautiful deep red and has the most wonderful perfume. So, in my garden, I will call it "Mark's Rose"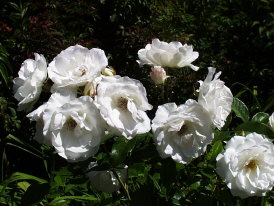 Perhaps the most planted rose, all over the World, "Iceberg" may have three flushes of blooming. Always healthy, it may be grown as a climber too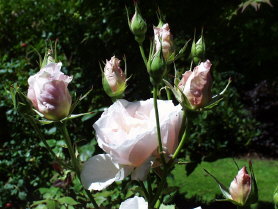 "Pink Parfait" is a modern hybrid and grows into quite a tall bush. Coming out late in the season, January, the bush is still in full bloom


Another rose that is popular in gardens everywhere, the buttonhole rose "Cecil Brunner". Here in Tasmania, "Cecil" will bloom from December until April. This too can be grown as a climber but I grow it as a tall bush, covered in the little roses and when it finally stops flowering, I cut it strongly down to size!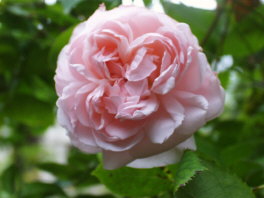 "Constance Spry" - david Austin's first great success. In his hunt for an old fashioned looking rose that retained the perfume of the old roses but also would repeat flower like the modern hybrids, he crossed "Belle Isis" with "Dainty Maid". The huge, pink and full flower reflects what gardeners imagine when thinking of old fashioned roses. The bush is vigorous with glossy green leaves and needs room. david Austin says that the perfume is the fragrance of myrrh- "there has been no other rose with this fragrance since the days of the old Ayrshire roses" - ie late 18th Century - David Austin
But Keith Money in the "bed Side Book of old Roses" describes it - "can only say that the scent is a bit strange, like opening an old trunk in the attic full of love letters, of course' I agree with david Austin!


This is Rosa "Moth", another david Austin, although he has left it out of his own book, so, one can only presume that he is not fond of it. I like it, the blooms are wavy and sit like butterflies [or moths?] on the bush, when more fully open than in the picture, they sit flat and reveal golden stamens. The colour is most unusual, it is almost fawn or like milk coffee with a hint of pink-mauve. The long canes can be pegged down to encourage the flowers to come all along the cane
The name is not because of the habit of the flowers but from Shakespeare's "A Midsummer Night's Dream" Moth was one of the fairies that attended upon Titania, the fairy queen



This is another unknown rose that was in very poor shape and which we have nursed back to health. First appearance the rose looks quite white but when you hold it against dead white, it is cream. The photo exaggerates this but it is a perfect rose for a bridal bouquet and i would love to know its name. I would think that it may have been growing for forty years or more, the stem is very thick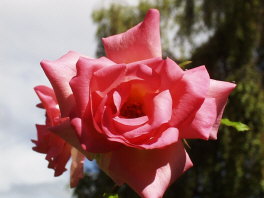 I took this rose at the same time as the white one above and again the color is not quite right, there must have been a peculiar light from the skies. "Sunny South" is an Australian rose that is found in all the old gardens. The true colour has more musk pink in it. More the colour of the Rose beneath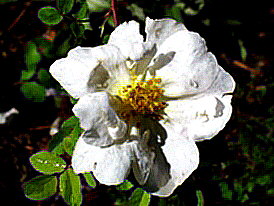 Rosa "Nevada" whose flowers may be 4 inches across is a good white to withstand weather. It is a tall and vigorous bush and has the appearance of a mixture between a wild rose and a modern hybrid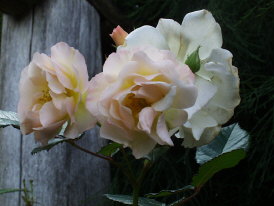 The buds of Rosa "Autumn Delight" are apricot in colour. When the bud opens the shade turns to a delicious cream-apricot and the bloom shows golden stamens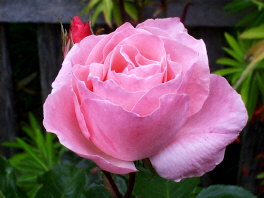 Rose "Queen Elizabeth" - this tall vibrant pink rose is very popular in Australia. Named after the Queen of England, this plant was given to me when my mother died by the lady who helped me in the house, one day a week, for thirty-three years. Although not my favourite rose, it is for this bush that I have the fondest feelings for and it rewards those feelings by giving me wonderful blooms



I hope you enjoyed looking at the roses. If you want to ask me any questions or just have a chat, please leave a message in the discussion area on my Welcome Page, click up the top and on the right hand side. I love to hear from you