ROSES TO LIFT YOUR HEART

Photos taken by gay Klok during December 1999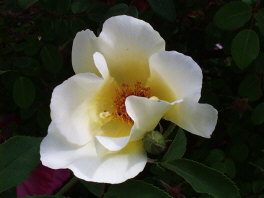 R "Golden Wings" Kees' favourite rose. Free of mildew or other nasties, if you remove spent flowers it will be in bloom all summer


This is the specie Rose "moyeseii", a large robust shrub, stems shoot from the base and you may be able to see the hips forming. These are large and bright scarlet. Originating in China, the flowers may be pink but this form is an excellent pillar box red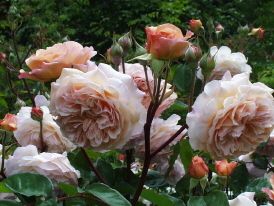 An English Heritage Rose, "English Garden" was raised by david Austin in 1986. many shoots from the base, this large flower has a wonderful perfume. The colour is a delicate apricot pink, flower form is fully double. An extremely nice rose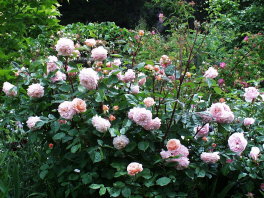 In this photo you may be able to see how floriferous "Perdita" is. We only give the rose bed a little compost once a year


Another favourite david Austin Heritage rose, "Wife of Bath" always delights me with the smaller pink, fading to white on the outside, flower and its lovely buds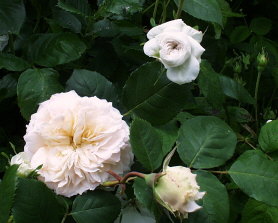 I have forgotten the name of this rose, the rose on the left, it is lovelier than it looks here, being the palest apricot you can imagine. Anyone able to help me? The bud on the right is the Damask rose, "Mdme Hardy", one of the most perfect old fashioned roses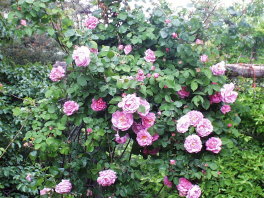 Rosa "Constance Spry" surely one of the most favored of the English Heritage roses and the first David Austin raised in 1961. Here it is growing up a pillar, the only one that the possums don't climb and eat all the buds. The flowers are the largest of any other Old English roses that i know. The colour is a lovely soft pink with the true old rose formation. The perfume is wonderful but you need space for this rose, it can reach 15 ft tall and the same across. Perfect for growing along fences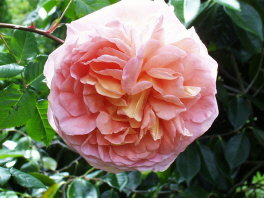 Perhaps equal in size of bloom, R "Abraham Darby" is a climber up to aft in height. The colour is a soft peach with again the old rose formation. A lovely perfume is another plus with this showy rose but I find it very prone to black spot, although the books tell us that it is not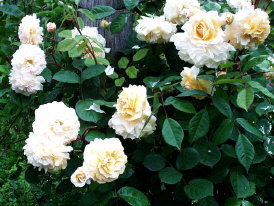 Another pillar rose, "Buff Beauty" also deliciously scented, does not grow as tall but is lovely along a fence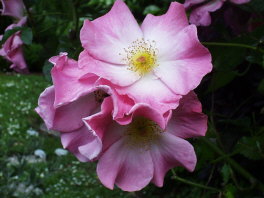 Rosa "Sparrieshoop" is a floribunda and grows quite tall with me. Slightly scented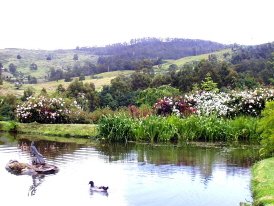 Roses growing along the pond bank. These include Rosa "Bloomfield Courage" and "Albertine"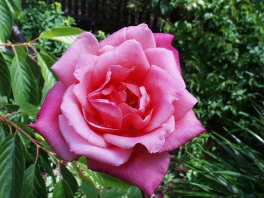 This is another unnamed rose that i would like to have help with. It was in the garden when we purchased and i would classify it as a rambler or a pillar rose. The blooms are quite large, as large as "Peace" I imagine that it could be a 1950's rose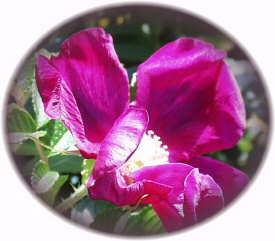 This is one of the roses grown for Winter berries. It has already been in flower for six weeks and the hips are growing at the same time. "Rugspin" is the name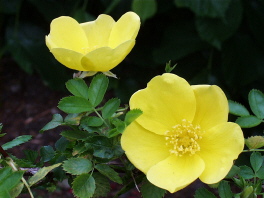 Another rose grown for the wonderful Winter hips, R "xanthina f. spontanea" of which "Canary Bird" is a particularly fine form


Here is the link to my Welcome Page. Would you like to sign my Guest Book there? Or better still, leave me a note in my Discussion area. I would love to hear from!