LATE RHODODENDRONS

Photos from the country garden, "Kibbenjelok", taken by Gay klok with her trusty digital camera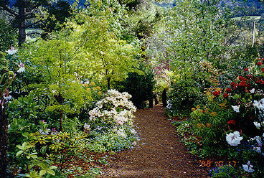 As the Spring weeks pass, many more Rhododendrons make their presence felt. The gravel walk splits two Rhododendron, manferns and Acers and allows the garden viewer to get close enough to smell the various perfumes coming from the plants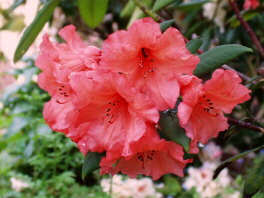 Amongst the late flowering Rhododendrons, I find that "Tallyho" is a charming Rhododendron and an excellent red. It is a strong growing bush and will grow quite tall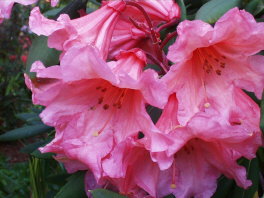 This Rhododendron also flowers late in the season, it is a Dutch hybrid called "Anton van Wylie" and will also grow to a very tall small tree. The colour is quite vibrant, more than is showing in this photo


Looking across to the house, trees and Rhododendrons blend together with the green grass shaping the garden beds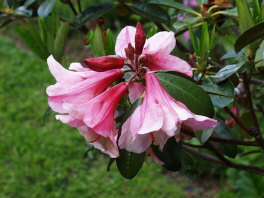 A New Zealand Rhododendron "Beatrice" is a hybrid with one parent being "Royal Flush" The bells are much larger and wider than the parent. This Rhododendron may flower for many months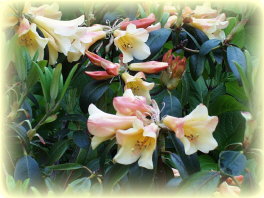 This is more like the "Royal Flush" group but is a form from the famous Bodnant gardens in Wales. It is simply called "Bodnant Yellow'


Some of the species Rhododendrons give enormous pleasure during late Spring and this one sp Decorum has great healthy leaves and very delicate pale pink flowers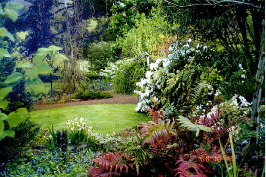 In this garden I have planted bush ferns from our woods, their new red-brown fronds blend with the smaller Rhododendrons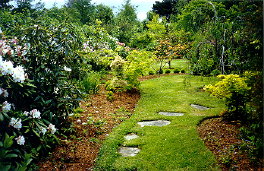 The stepping stones will take the garden viewer for a walk between Rhododendrons and into the Japanese ornamental Acer circle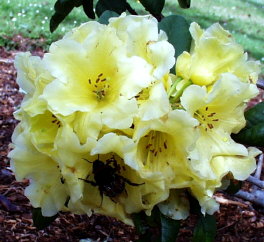 I could show you quite a few more photos of the useful late blooming Rhododendrons but maybe you are getting sick of them. But the bumble bees are glad that some of the Rhododendrons give nectar so late in the year,
And so am I!!!

No more Rhododendron photos - with the next article I will be showing the roses that bloom in Summer! To return to my Welcome Page click here
Do not hesitate to contact me in my discussion area, if you would like to know more about the monarchs of the acid garden. I am always very pleased to hear from you.