THE EARLY RHODODENDRONS have entered the stage, at least three weeks early and bits and pieces

Photos taken late July, 1999 in the Country Garden and the City Garden

by Gay Klok

This is a very beautiful specie Rhododendron that has a glorious perfume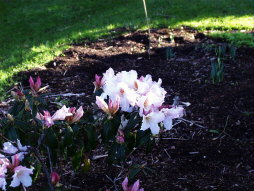 A rather poor photo of the bush. You may see that it is a little bit scraggy in growth but is worth growing for the lovely, almost orchid like flowers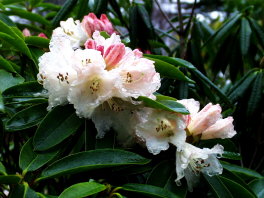 I can only guess the name of this Rhododendron. It was moved, very sick from the city garden to "Kibbenjelok", eleven years ago, and has flourished in the kinder conditions. I think it may be a special form of "Christmas Cheer" although the flowers are too large. If anyone can help me identify it, I would be most grateful. It always comes into bloom early in the season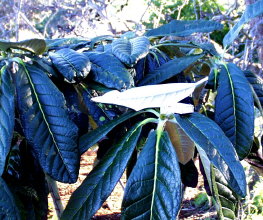 The large leaf Himalayan Rhododendrons give interest all year around. The loose leaf is too show you the wonderful silver indentum on the back of the leaves. When the Rhododendron grows to become a tree, this colouring is one of the great beauties of these species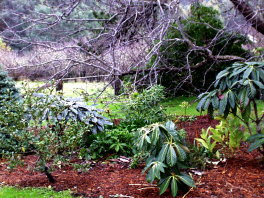 Here you may see several of these large leaf Rhododendrons growing in our new Rhododendron bed. Needing sheltered conditions, they prefer the shade. As a general rule, the larger the leaf, the less sun tolerant the plants will be.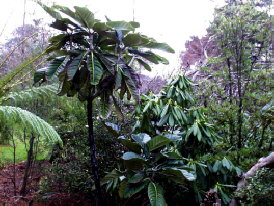 And here in the old Rhododendron bed in the orchard garden, the large leaves give a most exotic feeling. You may also see a Manfern's [dicksonia antartica] fronds on the left of the photo and on the right an Eucryphia's small, airy leaves give another contrast


This box of matches gives some idea of the huge size of the Himalayan giants


It is not only the large leaves Rhododendrons that lighten the Winter garden scene. Here are the new leaves of the ornamental artichoke, a wonderful foil to the bright green of the winter grass, pure silver in colour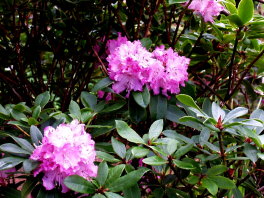 Certainly not my favourite colour, this Rhododendron "Spring Sonnet" always blooms quite early in Winter and seems quite impervious to whatever the Winter Weather may throw at it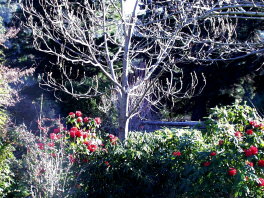 The bare limbs of the trees allow enough Winter sun through to make Rhododendron "Cornubia" burst into flower, mid Winter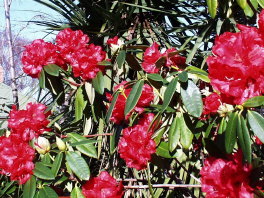 A close-up of Rhododendron "Cornubia", a large bush it will have these huge trusses of clear, tomato red flowers for quite a few weeks. It will withstand some sun.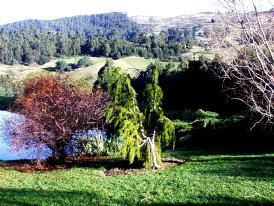 The evergreen Conifer in the middle of the photo is Tasmania's Huon Pine. One of the ancients of the World, dacrydium franklinii, is a rain forest specie of moist flats and river banks. It is a cypress like tree after many years as it grows very slowly, with a weeping form. The wood, which will withstand the elements and if left outside is a wonderful silky grey-white colour, has been used by the early settler furniture makers and when waxed becomes a glowing yellow coloured, strong wood. The ship builders also used it for building boats that lasted forever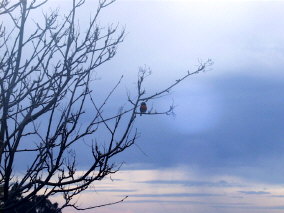 You won't be able to see this but the Robin redbreasts are chirruping all day long as they busily look for seeds. A typical Winter's Day sky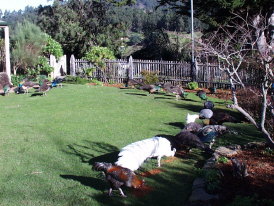 These creatures of our farm yard are spoilt and given their seeds, in the blind hope that they will leave the garden plants alone! Peafowl, chooks, Guinea fowl and ducks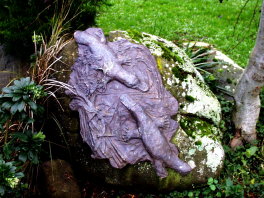 In Winter the lichen and moss grow everywhere. This sculpture by Stephen Walker is of the platypus and dragon flies. The rocks were dragged from our bush and sit by "Cinderella, Large Pond"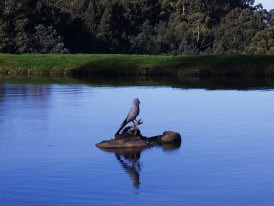 This is the "Large Pond" with the "Black Cockatoo" also a bronze by Stephen Walker, ever vigilant, looking over to the South island of Bruny Island. Eucalyptus in the background

I mustn't forget the Camellias that are bursting into bloom everywhere. Next month I will show you many, so this is just a taste of good things to come! This is another unknown, bought at an auction as a New Zealand variety
I do hope you have enjoyed the walks through the Winter gardens in Tasmania. Call in and have a chat through using the discussion area on the right of my Welcome page. Here is the link back to the Tasmanian Garden Journal Welcome Page