RHODODENDRONS and other LATE WINTER, EARLY SPRING GARDEN PHOTOS
Photos taken in the country garden during August 2000 by Gay Klok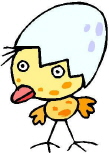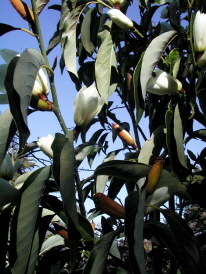 The beautiful Michelia doltsopa, buds just opening. These small trees are related to the Magnolias and there are about 45 species. Some are found in the tropical and sub tropical areas of Asia, others will stand much cooler conditions and come from the foothills of the Himalayas. They range from shrubs to substantial trees and most bear intensely fragrant flowers. The oil may be extracted from the blooms and used in the cosmetic trade


The true herald of Spring, the narcissus, baby ones in the "low garden", only about 6 inches high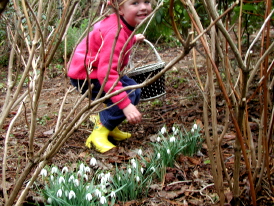 Look who crept into my photograph at the last moment, to pick the "fairy cups" Snowdrops. Sorry about your head, Isobel!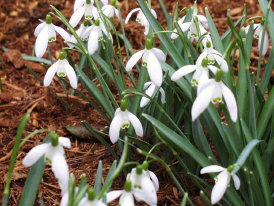 Close up of the delightful snowdrops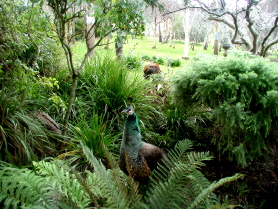 Everybody is hanging around the Birch wood and the sitting dove. Maybe this peahen is looking for a quiet spot to make her own nest


This rooster is absolutely free range and has three wives to keep him company. He is checking up what the peahen [above] is doing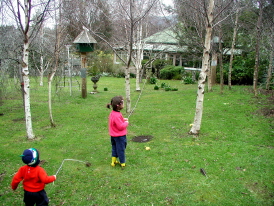 These two elves are rushing to see what is happening too, Isobel and Thomas, but the dove egg was not hatched yet. Can you see the broken peacock feather in our little grandson's hand?


The miniature Rhododendron racemosum's flowers cover the small leaves with balls of flowers, early in the season. The bush in our garden is about aft high and across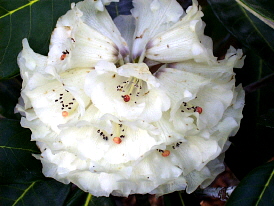 One ball of flowers of the above Rhododendron, would fit into one flower of the Rhododendron sinogrande. This Rhododendron comes from the high rainfall parts of Himalayan and is desired as a plant for large gardens which enjoy a suitable climate, fully grown it reaches 30 ft in height. The huge leaves may be the biggest of all the large leaf genera, some growing up to 3 ft long. The back of he leaves have a beautiful fawn or buff indumentum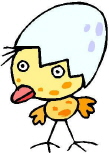 I hope you enjoyed looking at the flowers. If you want to know anything about these wonderful plants that may give you so much pleasure at the beginning of Spring, please leave a message in the discussion area on my Welcome Page, click up the top and on the right hand side. I love to hear from you