EARLY RHODODENDRONS

Photos taken by Gay klok in the early Spring gardens of 1999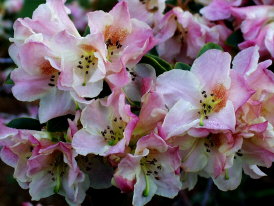 I have lost the name of this lovely Rhododendron. Can anyone help me? Note the orange throat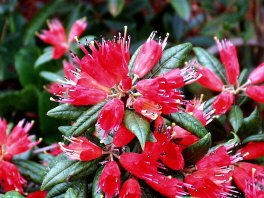 The unusual' oddly pretty blooms of the specie Rhododendron spinuliferum. Its native habits is primary the shaded thickets at a height of 6, 000 to 8, 000ft in Yunnan province of China Note the attractive stamens tipped white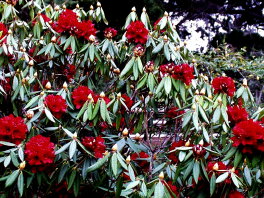 The deep red of the old Rhododendron "Bibiani". Here you can see the rather bad habit of its leaves that droop even when it is happy


It doesn't look the same flower shade but this is a closeup of "Bibiani". The photo was taken a week after the graphic above and later in the day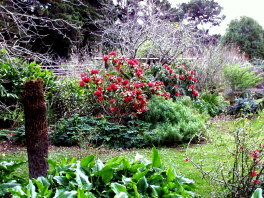 Here you see another red Rhododendron "Unknown Warrior", an early bloomer and the poor manferns stripped of their old tatty fonds with the new fonds just starting. The parrots and Rosellas play havoc with the fonds after they have finished eating the apples, so just when I can feel the new fonds coming, we cut the old ones off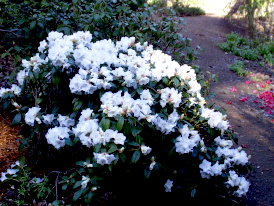 Rhododendron "Snow Lady" never grows tall, only fatter as the years
pass. Don't we all?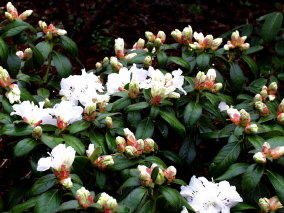 This photo is a not as good as I hoped. It is a close up of "Snow Lady" and I wanted to show you the lovely black ends at the top of the stamens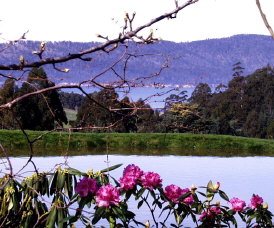 And here above the "Big Pond" Rhododendron "Spring Glory" blooms happily. Though not my favourite colours, it is always very early to come into bloom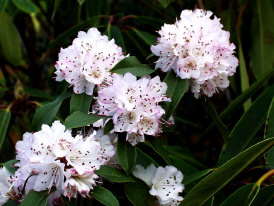 Rhododendrons come in all sizes. This is a lanky bush but the puffs of small flowers are only about the size of a large orange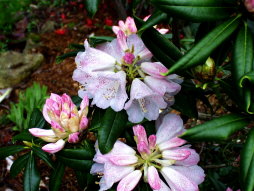 Looking more conventional, let's have a closer look at ...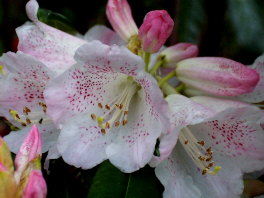 Now we can see why this specie is called sp irroratum . The pink is really lots of cherry red freckles and it looks very beautiful in the early Spring garden. It is free flowering and quite hardy. it comes from yunnan also and grows in Pine and Rhododendron forest there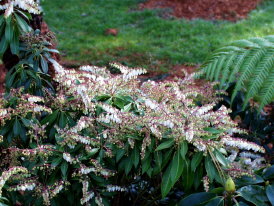 The lovely Pieris is an excellent companion to the Rhododendron bushes and, in case you are worried about the manferns, here is one that has already grown a new fond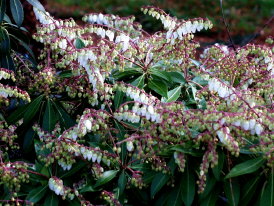 A close up of the delicate, lily-of-the-valley flowers of the woodland Pieris

If you have any difficulties with downloading [apart from time] please let me know. If you would like to ask me any questions, join in our discussions [you must be a member but remember it costs you nothing!] or send me anemail