MAGNOLIAS, RHODODENDRONS and SPRING FLOWERS
Photos taken by Gay Klok on Open days, October 3rd and October 4th, 1998
Rhododendrons the visitors loved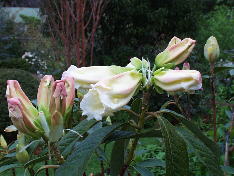 Rhododendron "Nuttalii"'s charming buds. When the bloom is open, the garden will be awash in perfume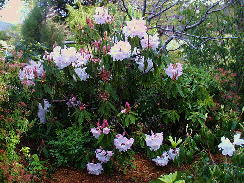 The blooms of Rh. loderi "Venus" making a very large bush both upwards and sideways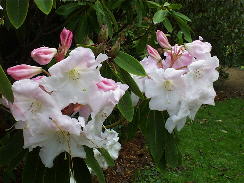 Close up of the huge flower trusses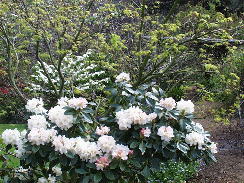 Rhododendron "Unique", japanese Acer "Green Cascades" and Viburnum plicatum "Mariesii"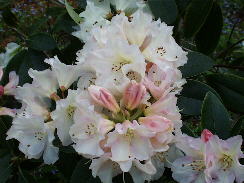 Close up of the delicately coloured flower heads of the rhododendron "Unique"
Rhododendrion "Unknown Warrior" and add colour to the top Rhododendron garden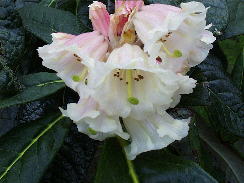 The flower head of the specie Rh "Grande". The large leaved Rhododendrons take some
years before blooming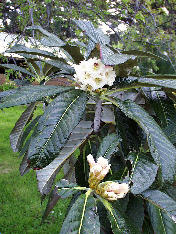 Showing the large leaves of the Himalayan Rhododendron
A somewhat smaller Rhododendron "Doc" is just emerging with its soft flowers
Perfuming the whole garden, Rh "Countess of Haddington" is not a tall Rhododendron, growing wider and wider as the years pass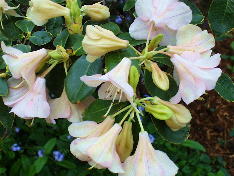 The delicate amber flowers of Rh "Alison Johnstone"
As usual I want to share too many photos with you.
If you have had enough here is the link to the article "The Garden of Joy and Sorrow"