THE RHODODENDRONS STILL BLOOM IN DECEMBER
Most photographs taken at "Kibbenjelok" with a digital camera
Rhododendrons, if chosen well, may flower for six months of the year. There are several types still in bud that I will be able to use in my vases on Christmas Day. Primulas are just coming and I will show more photographs of them next month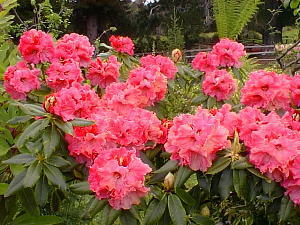 The beautiful hybrid "Sir Fredrick Moore". A strong
growing bush which is already well above my head,
planted about 7 years ago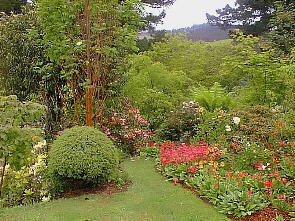 Primulas coming and a few last Rhododendrons
going in the "Home Orchard Garden"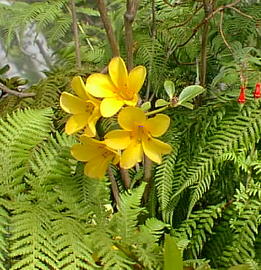 Vireya sp. Rhododendron blooms at all times
of the year in a mini-climate in the swimming
pool surround at the Town Garden. These
Rhododendrons have lately become very popular
in the warmer states of Australia. Many
varieties come from New Guinea and Jarva.
Australia has only one native Rhododendron Vireya
"Lochae" which grows in the warmer climes
of Northern NSW and Queensland. We do
have one growing outside in the garden at Hobart
but, I feel, that it may be too cool for this specie at "Kibbenjelok"
Another view of the Himalayan Primulas
We grew these from seeds purchased at
Cluny House Garden in Scotland. They
have increased so well, I am able to have
large slashes of the same colours and sp.
throughout the gardens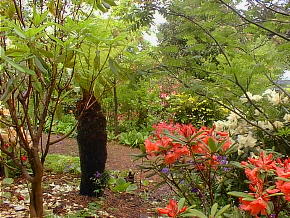 Two of the later flowering Rhododendrons, hybrid
"Tallyho", a good clear tomato red "Cup Day" cross
in the background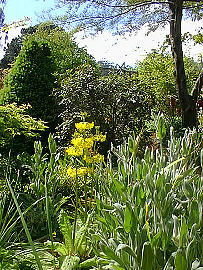 The first yellow Primulas stand tall and straight
with many more to come. Above, the cut leaf
Alder allows just enough light in.
The American hybrid, bred by Greer, "Whalloper", is aptly
named. Everything about this Rhododendron is
large -- its rate of growth, the size of the flower heads
make such an impression that I have planted manferns
and Japanese Acers and to the right of the picture you
may see the huge leaves of the so-called rhubarb plant
Gunnera " manicarta to cool it down a little!
The Primulas, when happy as they are here, should
be split, at the minimum, every two years and you
may get as many as 7 more healthy plants. They are
so blissful they scatter dozens of babies ino the brown
gravel paths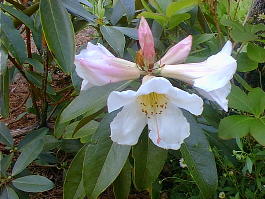 Specie Rhododendron maddenii, a late flowerer
with the most woderful perfume, would look good
in a vase with the similar colouring of the Christmas
Lily but the combined scents may be over powering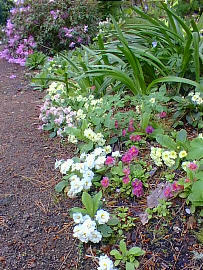 Double Primulas flowering earlier in the season
The seeds came from the Chelsea flower show
we were lucky enough to attend several years ago
Kees being dwarfed by the Rhododendron "Pink Pearl"
This Rhododendron was in the garden when we bought
the property. Behind it is the Chinese Beauty bush, also
very large for what it is.

The gravel path that means you are about in the middle of the
"Home Orchard Garden" and still have quite a walk ahead of
you. The Rhododendron you see in bloom is an old one called
"Arthur J Ivens" - a type tolerent of a sunny position
I am sure your arms and buckets are full of flowers to decorate our homes on Christmas day
Do let me know how you enjoyed our stroll through the gardens by sending an email or
by letting me know how you decorate your Christmas table through using the discussion
link at the bottom of my article