FROM PAEONIA to HEBE -flowers that gave us joy in DECEMBER and JANUARY
Photographs taken by Gay Klok with her trusty digital camera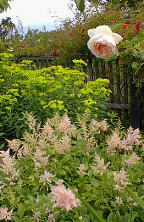 A David Austin rose blooms over a pink Astilbe "Hyacinth" with a
lovely Euphorbia "schillingii" which is rather new in Australia and
is a spectacular specie forming a bush up to 90cms with grey-green
leaves and large heads of yellow flowers mid summer. Planted for
two years now, is already dropping its babies everywhere



In this picture you can see a Hebe small shrub which we keep cut in a
formal ball. Behind it is a claret cut leaf standard Acer and behind that
the dainty cut leaf Alder, a lovely Ash that we keep in check by pruning
bottom branches every year. In front of that is a Gleditsia triacanthus
"Sunburst" with frond light green to yellow leaves in Spring, Summer
and Autumn. Just out of the picture, I have planted another Gleditsia
"Ruby Lace" with foliage coloured light burgundy



Paeonia lutea var. ludlowii in bush and closeup. The deep goldenflowers with central boss of stamens contrast with the deeply divided leaves. It is a valuable tree peony, grows in sun or semi shade and will take a chalky soil

Paeonia suffruticosa. This tree peony sp. is one of the most beautiful plants
we grow at "Kibbenjelok". They will grow in either sun or semi shade
but are best when shielded from early morning sun. Very long living plants,
the tree peony can reach 8 ft in height by about the same across but I have
never seen any as large as that. The flowering season is not very long
but for the two weeks they are in bloom, I will go and pay my respects
every day, you don't blame me, do you?
Day lilies may be planted anywhere, at anytime and may give you streams

of very lovely flowers for many weeks from early Spring to late Summer.

There are early and late bloomers, repeat bloomers [if they are happy] and

are edible! Their only fault is that you will end up with so many, you can

increase by splitting with a spade, or planting the side shoots of new leave

often start from the stem. And if that is not enough free plants for you, you

might like to start a new cultivar from seed. I like this strong yellow colour.
Another strong colour, this is a very strong tomato- red day lily. I have
many other colours, mostly growing in streams in a garden on their own.
In Suite 101 we have a gardener whose speciality is dayliles so I will
not show you any more but suggest you go to "Contents" and look at
that excellent site
This is the "Hoheria" glabrata tree, a native of New Zealand. From
the middle summer to late summer the tree covers itself with clusters
of pure white cherry-like flowers. It is a very handy time for the garden
to have a flowering tree. The flowers are much bigger than the similar "Halesia",
and the racemes last, shining amongst the lime green, for several weeks
Its worse feature is that it is deciduous but never quite loses its leaves
in our cool temperate climate and so spends the Winter looking rather the
worse for wear or as if it was just getting over the 'flue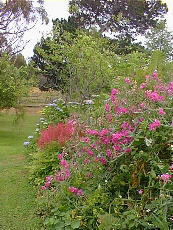 One of the Rhododendron beds in the Old Orchard Garden A perennial Sweet pea
lathyrus clambering over a Philadelphis "Belle Etoile" and in the middle is
a strong red "Astilbe". On the far side a hydrangea is just starting to flower,
the blue blooms showing that the soil is acid. Next month I will show you the
many shades that have begun to appear on the various cultivars growing
at the country garden.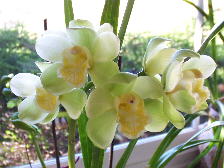 Hardy orchids growing lushly in the damp, but drained, conditions in the
long border
This is one of my Christmas presents from my daughter, Francesca. The head
is a fishing buoy and the body is made of straw and he has a great face. The clothes
come from the Salvation Army and another member of the family suggested that
I may like to swap my gardening clothes for the straw man's, as his were in far better condition
I don't know if you can see this Christmas present, well two gifts really. I had to
take this through the window as this was their first stroll out into the big World. In the
top hand corner you may be able to make out the Dove Cote my son Matthew made for
me last Christmas. It has taken us all the year to find two white turtle doves [fantails?]
to occupy the grand house. Matthew managed to find these two, very young and a pair,
with the gentlest, pretty faces you can imagine and last weekend, I heard them coo!
Their parents are named Romeo & Juliet - so do you have any suggestions? If you
can come up with a suggestion for their names, I will send you a dozen peafowl as first prize!!!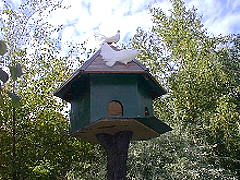 A better photo taken last weekend. The doves have settled in quite
happily now and are tame.
Let me know by using the discussion & question link at the bottom of my article. If you can't see the link, that means you haven't become a member of Suite101. Why don't you? It will cost you nothing and we have a lot of fun.