Acer palmatum "Aoyagi". An upright, small growing tree, a pareticular delight of this cultivar is that the bark on the trunk, branches and twigs is a bright green pea colour. It will eventually make a strong tree of 7ft height. "Yagi" is Japanese for a species of coral, Ao-green. So I suppose we could commonly refer to it as the 'green coral bark' [see below]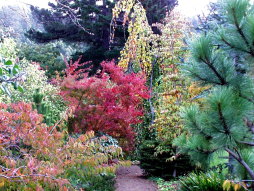 Acer japonicum [the red tree in the middle of the photo] make good companions plants for Rhododendrons and small conifers.


An Acer palmatum dissectum which has brilliant Autumn colouring. This plant is just starting to turn but grows in heavy shade under the huge oak tree in the Town Garden so perhaps it can be even brighter with more sun


Daughter and granddaughters gathering Autumn leaves to make a "painting". This was taken in the town garden. The Acer standard is a quite mature one, being given to me by a friend who had to sell her house and garden


Acer japonicum "Green Cascade" a cultivar developed in the United States by Art Wright. It is a weeping form of the A japonicum looking very like a dissectum japonicum.


These two photos are of the same tree, taken two weeks apart, showing how the colour matures. In the bottom photo, the shoiw is almost over and these leaves will turn browner in shade until they fall off


Can you guess these Acer scanned leaves from the Town garden? If you can, give your answers in my discussion area in "Tasmanian Garden Journal"