LATE SPRING GARDEN




RHODODENDRONS and other SPRING FLOWERS

Photos taken in the country garden by Gay Klok during November 1999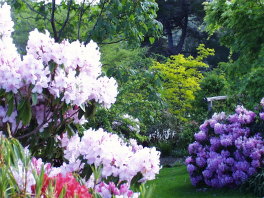 The November garden is full of fresh green leaves and Rhododendrons, a beautiful time of the year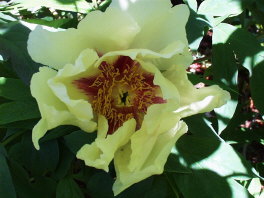 There are the Tree Paeonia that are of such fleeting beauty but worth it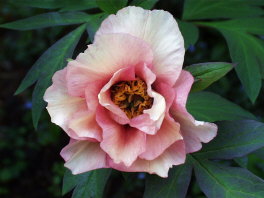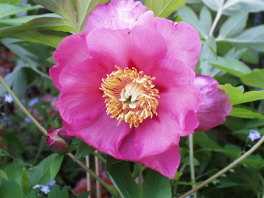 Slow to start growing the Peony will live for many years. They like a good feed of animal manure now and again but are mostly disease free


I don't know if you can see him but Kees is standing in front of the old Rhododendron "White Pearl" - on the right of the picture. Next time I will tell him to wave a red handkerchief - I think it is 18ft tall x 24ft wide


here is another garden ornament, the lead sculpture "Cupid" looks at himself in one of the old coppers little pools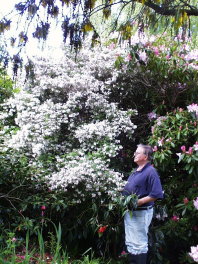 You can see Kees a little better in this photo in which he is admiring the Kolwitzia "Chinese Beauty Bush"


Closeup of the Beauty Bush which flowers for a long time. An old fashioned plant, it is easy to grow and looks lovely in a vase. This one is really a pale pink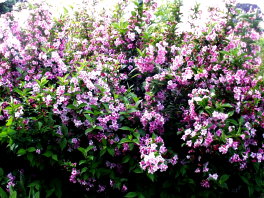 Another old fashioned plant, Weilgelia will give you two shows - in Spring and again in Autumn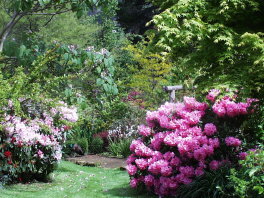 Old fashioned Rhododendron "Alice" which was pruned quite heavily last year because the blooms were so heavy they bent the branches down to the ground. It didn't seem to mind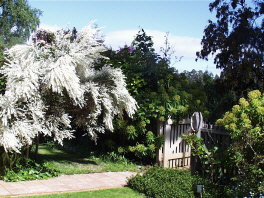 The broom in flower near the garden gate, its unusual perfume greeting our visitors



The white peafowl comes to say goodbye


The link back to my Welcome Page is here. I would love to hear from you in my discussion area.