THE FLOWERS OF THE LATE SUMMER GARDEN

Photos taken during february and March by Gay Klok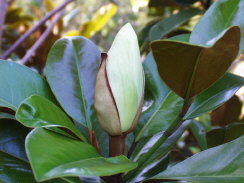 The buds of the Summer flowering Magnolia Tree grandiflora "Exmouth" The evergreen Magnolia forms a large dome of dark green thick leaves. Underneath they are a beautiful rust colour. The cup-shaped blooms may be up to 10 inches across. The flowers come at an early age in the "Exmouth" variety and have an exotic perfume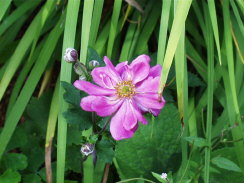 A double form of the Japanese Anemone hupehensis I prefer the single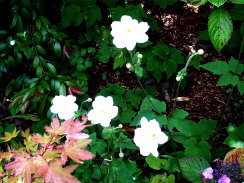 This is a very poor photo of the single white Japanese Anemone. For some reason the yellow-green eye won't photograph
I have no idea if this is a seedling gone wrong or it was purchased as an Anemone with a green splash. I first noticed it last year so it is now established as keeping the green splashes

The Agapanthus bloom their hearts out at the end of Summer. These can become almost a weed in warm gardens in Tasmania Native to Southern Africa they are grown for their showy flowers in gardens all over the World. They can thrive in conditions of neglect. When we had a sea-side cottage, dozens grew in the sandy soil and were never attended to. These come from the cottage which is owned by my daughter now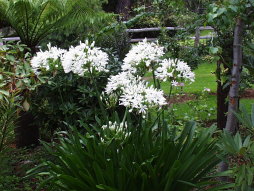 The white Agapanthus does not spread so quickly. Agapanthus may be propogated by division in late Winter. Flower heads should be removed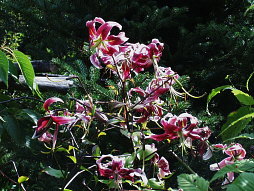 Late Lilies add to the perfumes of the Summer and early Autumn gardens

The rose Abraham Derby is a soft-peachy shade with the centre petals falling in to give a shading of yellow too. It has a strong and delicious scent. Recurrant flowering, there are many buds to come so will give pleasure right through Autumn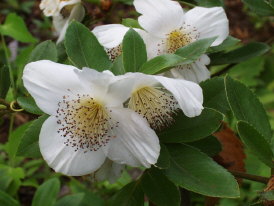 A rare form of the beautiful Eucryphia. I have shown photos before of the Leatherwoods of Tasmania but this time I have captured the delicacy and beauty of the stamens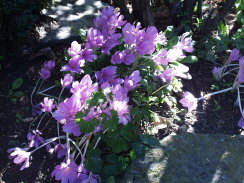 The Colchiums begin to push themselves abruptly through the soil all over the garden. Commonly called 'Autumn Crocus' the likeness is only superficial as the two genera are not closely related. All parts of this delightful corm are poisonous but in my opinion the worse thing about growing them are the large strappy leaves that appear after they have finished flowering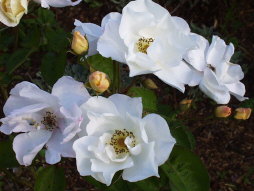 I have forgotten the name of this Rose. As you can see the buds are a beautiful apricot-yellow. It could be one of the Heritage Roses. The flower is small, perhaps 3 inches across. Can you help me?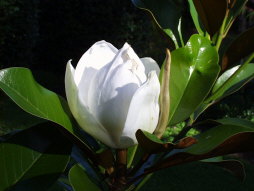 The bud is opening on the Magnolia tree!

With my next article I will be showing the Roses we grow for the brilliant heps that gleam like jewels hanging on the bush, all through to Winter. They are really brilliant this year.
To return to my Welcome Page click here