KITCHEN and SITTING ROOM
photos taken inside the house, "Kibbenjelok" Middleton Tasmania by Gay Klok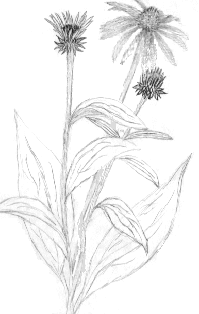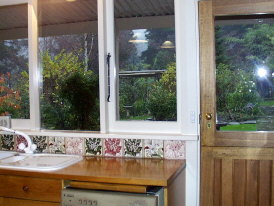 Now we have moved to the back of the house and the work area, the kitchen. This is the view to the original, small cottage garden and "Home Orchard Garden", now our main ornamental gardens. The kitchen sink and dish washer! When we purchased the sink was stuck onto the right hand wall - no windows and no light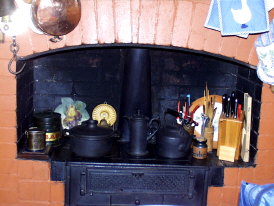 We kept the old wood stove which is in going order but is unused by "yours truly"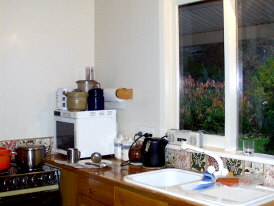 Here is where we do our cooking, electric and microwave. Not that I use the micro wave oven very often but it is good for jam and hot milk!


The Canary Island sideboard was found [by eagle eyed Kees] thrown into one of the apple orchards. The wall hangings are "Ikats" the wonderful weaving cloths of Indonesia. The big one on the left we bought on one of our holidays visiting our son who lived there for nine years. The small showing of the framed cloth is one that the son gave us. It was used by the bride on her wedding day and is woven with pure gold thread


THE SITTING ROOM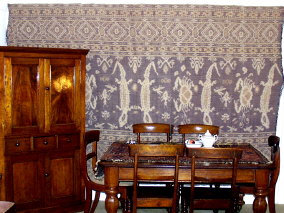 Another "Ikat" and another present in our sitting/dining room. This one was given to us by Indonesian partners in the law firm, where our son worked. They came to visit us for a weekend. I think it looks Australian aboriginal and shows how close we are, geographically to Indonesia. Most of the furniture is "left overs" from the Town House but the office cabinet is from my mother's home and is a favorite piece of furniture of mine. I use it for keeping the "best" china, glass ware and silver cutlery. Again the table chairs and cupboard are Colonial made Cedar furniture made in the C 19th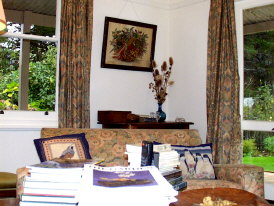 See all those journals on the table? Most are the Royal Horticulture Society's [England] Journal, waiting to be read. There are also copies of "Hortus", perhaps my favorite journal, which is only published 4 times a year.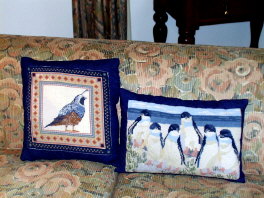 Close up of a bit of my tatting. The penguins are distant relations of SQS, the fabulous Penguin, President of the World and representing World Peace and Environmental Sensibility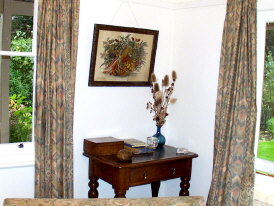 The etching on the wall depicts New Zealand plants, featuring berries.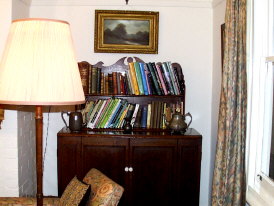 This bookcase is full of gardening books, helping me sort out Rhododendron especially species and also hybrid. It is a "married" piece [by us] the bottom cupboard is of interest. These cupboards [cedar wood used] were the first built in cupboards found in quite humble cottages in the early times of Hobart Town. Although built in, it is possible to remove them if the house is being pulled down. The top piece was also bought at an auction sale [not ebay!] and it was used as a small bookcase by Lady Franklin, the wife of one of our early Governors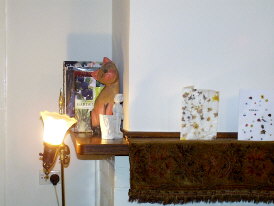 Corner of the fireplace in the sitting room. The two cards are this year's mother day cards made by two of my grandchildren, aged 2 and 3, and are real flowers stuck onto special paper and covered in clear paper. This whole room is a modern addition to the house, being created in the 1950s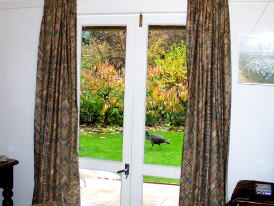 These doors were reproduced by us, the original door was an awful flimsy wooden single width door with what I call lavatory glass, used in one pane at the top.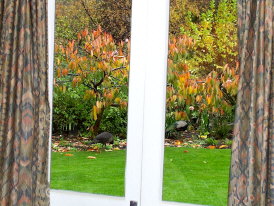 The cherry tree is still showing Autumn coloring. So, now you know all about, inside and out at "Kibbenjelok" our country property. I hope you haven't been bored.


Write me a letter! Discuss anything! Join up It cost nothing! Have
Fun! Get Information! Give me Information!
Link back to Tasmanian Garden Journal