SO YOU THOUGHT THERE WERE NO WINTER FLOWERS
Digital photos taken in the Town Garden during June, 1998 by Gay Klok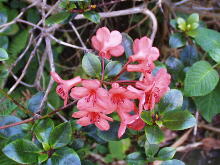 The Rhododendron vireya blooms mid-winter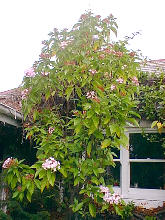 Perhaps the very best of all winter flowering large shrubs, with a heavenly perfume, the Luculia
Close up of the Luculia. You can almost smell that heavenly perfume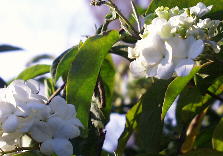 A rare Viburnum is again in flower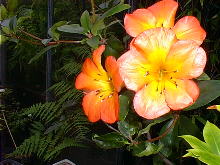 Another vivid Rhododendron vireya, such glossy flowers
Chimonanthus praecox a plant with a wonderful perfume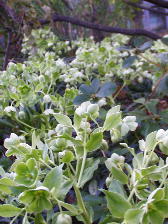 A forest of Helleborus, Christmas Rose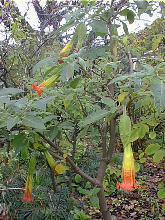 Brugmansia, the Cigar plant brings brightness to the Winter garden
Lovely catkins of the Garrya suits the mood of the Winter's garden

The variety of flowers at Sandy Bay Town Garden gives a lot of Winter cheer.
If you have enjoyed the walk through the gardens, let me know by using the
discussion area. You must be a member of Suite101.com to ask me
questions, so why not join? It will cost you nothing and privacy is
guaranteed. I enjoy hearing from you very much and we all learn a
lot and have a lot of fun!
Use this link to return to the "Tasmanian Garden Journal Article"