SUMMER GARDEN YEAR 2000
Photos taken at "Kibbenjelok" in January 2000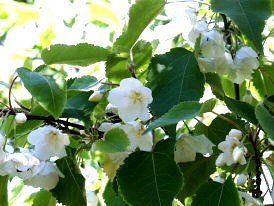 This is Hoheria glabrata, one of the most beautiful of the New Zealand native deciduous trees. Clusters of sweetly smelling cherry blossom like flowers are so very welcome in the garden, mid-summer


The front garden showing a Tasmanian native daisy gone wild and the purple pink flowers are the sprays of the fairy fishing rods, Dierama.


Also in the front garden, Australia's famous Kangaroo Paw, Anigozanthos, is planted in the white garden is planted in one of the rare dry, sunny gardens. Most of the gardens have damp conditions and as the trees and shrubs mature, more and more shade is creeping into the gardens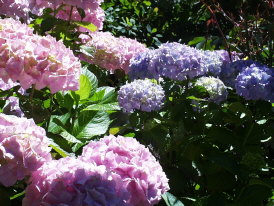 This is the Hydrangea bush that always gives pink and blue flowers, grown from a cutting. The strange part is that the colour of the hortensia is a soil tester - the more acid the soil, the bluer the colour of the bloom


A special French type that is growing with the Rhododendrons. Hydrangeas are good companion plants to the Rhododendron, giving colour to the beds that may be dull in the summer months


We have been having a dry period in Tasmania and you can see the grass, which is usually emerald green even in Summer, is drying out. The Elm tree, Ulmus procera "Louis van Houtte" is the tree on the left with gold-limegreen leaves and the other golden leaved tree is Fraxinus exelsior "Aurea" - the gold leaved Ash. You can see the purple Astilbe in the photo too and the steel blue Hydrangea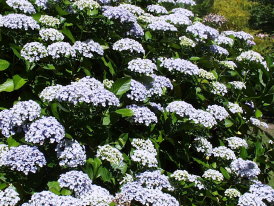 The hydrangeas are just beginning to flower and their colours will deepen as the weeks pass until they begin to die at the end of Autumn. This particular bush has tight little flowers and is always a particular grey-blue colour, like the blue summer sky that begins to fade as evening draws near


Close up of the purple Astilbe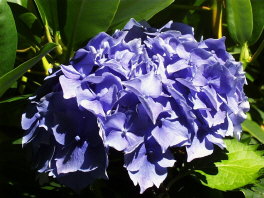 This hydrangea will end up a very vivid blue which shows it is a very acid soil in this particular bed


And yet another colour in the flowers of this hybrid Hydrangea


Rosa "Wedding Day" is loved by gardeners throughout the World. Easy to grow and in flower for many weeks, I have planted this one to cover the water tank. We have grown it from a cutting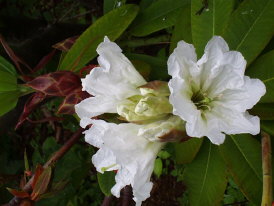 I know, I know, I promised not to show any more Rhododendrons but this very late flowerer is looking so beautiful this year, I had to give it its moment of glory! As it is in bloom so late in the season, it must be placed in a shady area to protect the flowers from the sun


Here is the link to my Welcome Page. Would you like to sign my Guest Book ? Or better still, leave me a note in my Discussion area? I would love to hear from you! Do you want to know any more about the flowers in my photos or the garden? Would you like to join us in the fun we have by becoming a member of the Suite? Or would you like to tell me about your garden? Take the plunge and click the balloon on my Welcome Page!