FOR THE LOVE OF A GARDEN
The flowers that are giving us pleasure and peace during February 2000
Photos by Gay Klok, taken in the gardens of both the Kloks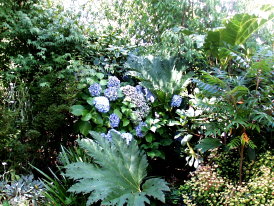 The coolness of the wood garden helps in the warm, dry weather of this Summer, 2000. The giant leaves of the Gunnera are really crowding out this garden. They were not planted but are growing from seed dropped probably by one of our peacocks!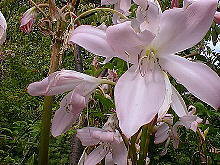 The pink Crinum lily has a wonderful scent. One long flower stalk in a vase will make your whole house smell like Eden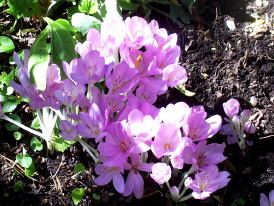 The Autumn Colchicums are popping through the soil everywhere, I am sure they travel underground!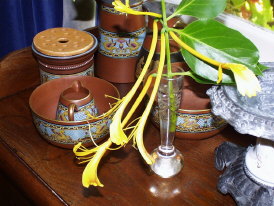 this is the giant honeysuckle, Lonicera hidebrandiana, whose perfume is quite subtle but delicious


The "Naked Ladies" - Amaryllis - greets us every year, with bigger and bigger clumps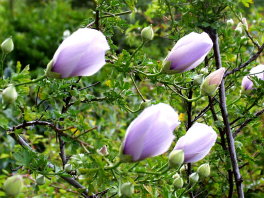 This is the Australian "hibiscus" - - and it flowers for many weeks. The only problem is that the gardener must keep dead heading to keep it going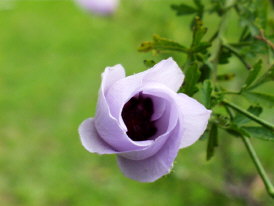 A close-up of the mauve-blue flower, showing the dark purple throat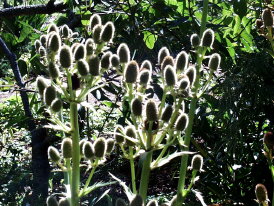 Is it any wonder that this Echinop is called "Mrs Wilmott's Ghost"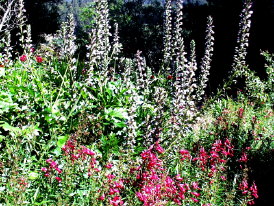 Here we have Acanthus and Penstimmons growing together quite happily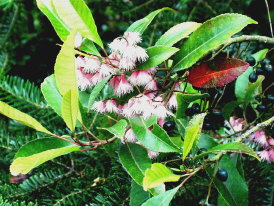 This is a Tasmanian native. Not a terribly good photo but interesting as it shows its three beauties. The little lampshade fringed flowers, very pale pink, the purple berries from last year and the brilliant red leaves show the coming Autumn though it usually keeps most of its leaves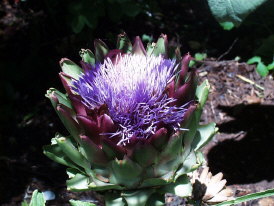 And here we have the ornamental thistle flower of the Cynara cardunculus. I should have put something there for size comparison, this floer is 7-8 inches wide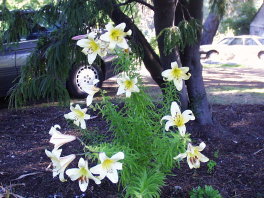 These lilies are growing in the worse soil in all the gardens, at the foot of a Sophora tree, the ground is dry and hard. I don't know why I planted them here but they come back every year without fail.

A clasp of the above Lily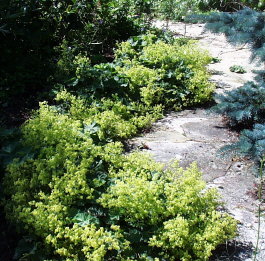 The "Lady's Mantle" path is still growing well and no doubt spreading its seeds throughout the gardens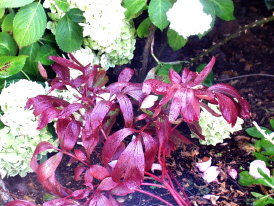 Herbaceous Peony Rose thinks that Autumn has arrived and has already turned scarlet. White hydrangea behind


A typical garden bed, late summer. The red is the leaves and berries of the Viburnum "Notcutt's variety" and the blue-purple is a hydrangea. Soon the leaves will have turned in all the deciduous plants, the official first day of Tasmania's Autumn has arrived



I hope you enjoyed looking at the flowers. If you want to know anything about these wonderful plants that may give you so much pleasure at the end of Summer, please leave a message in the discussion area of my Welcome Page, click up the top and on the right hand side. I love to hear from you