"KIBBENJELOK" GARDEN -WINTER TIME

Photos taken by Gay Klok during late June and early July 1999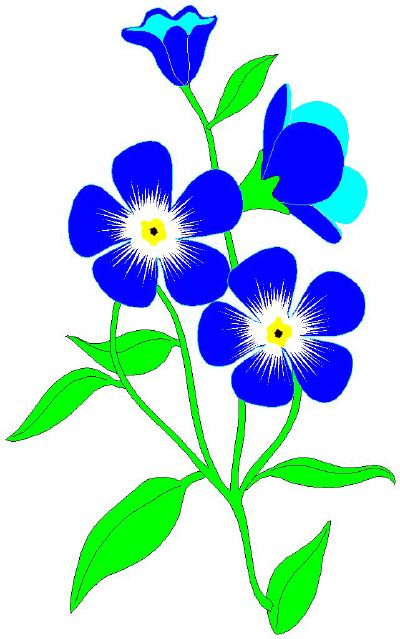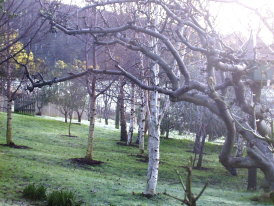 In the far distance you can see the paddock covered in frost, closer where the Birches are growing the frost is already vanishing. The photos were taken early morning and the frost had gone by 11 am


Camellias sheltered by the house wall are beginning to bloom. I have five here, white and pale pinks, moved from another garden because they were getting too much noon day sun and the leaves were turning yellow. You can see that it helped enormously. Above here is the window where I write my articles sometimes and though way below window sill level when planted, they have nearly reached up to where I will be able to admire them from the warmth of the sun room


A true sign that Spring is just around the corner, these double jonquils are sending a lovely message to many corners of the gardens, with their delightful perfume stating, "Here we are and the Big Boys [the daffodils] are not far behind"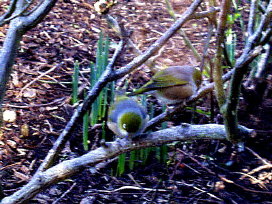 Two silver eye birds, looking for seeds under a rose. The bulbs are pushing strongly through the ground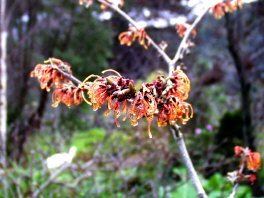 The Hamamelis x intermedia "Jelena" has been gleaming for several weeks now, very early but the perfume and the red-brown stars are most welcome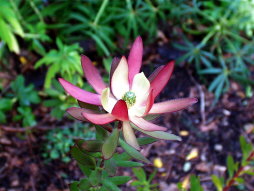 A South African plant, closely related to the Protea, this leucadendron "Safari Sunset" will eventually become a shrub. Great to pick for decorating the house, farmers in Tasmania are diversifying and growing Proteas and Leucadendrons and exporting them as cut flowers to many places in the Globe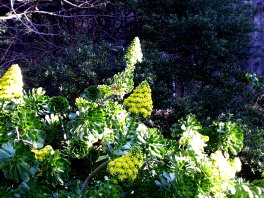 Another Northern Africa, Canary Islands, Aeonium cuneatum, prefer full sun or partial shade, depending on you weather, thrust up these pale yellow candles. It is related to the succulent family and likes a warm sunny position.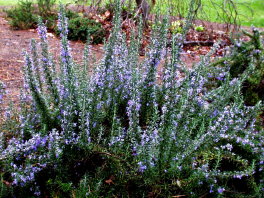 This creeping rosemary, rosemarinus prostranus, the blue-grey flowers blend very well with light yellow. I have three of these bushes next to the path so when people walk by they will catch a whiff of the evocative scent. Prune regularly to keep the plant healthy and your cooking interesting, they may be grown from seed but it is much quicker to pull up one of the layered pieces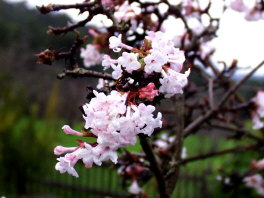 The Viburnum "Judii" will always welcome the cold weather, perfuming the whole garden with its delightful, spicy scent. The delicate pink flowers fade to white but last a long time, delighting the birds and the human visitors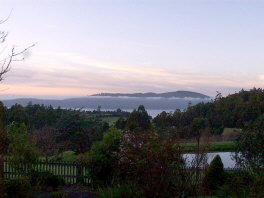 Night time falls, the birds are asleep and it looks like another frosty morning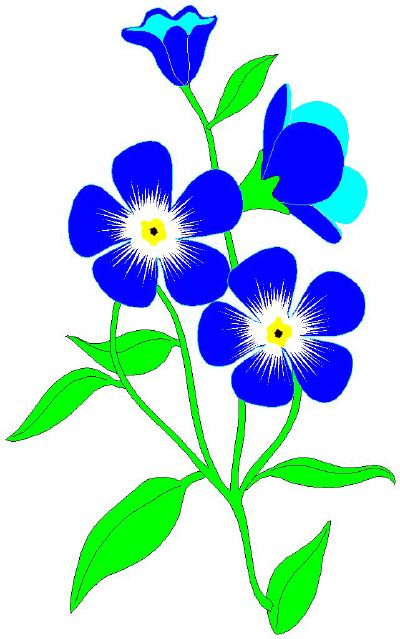 Here is a link to my Welcome Page. If you would like to talk about anything, please leave a message in my discussion area. It would be great to hear from you