CAMELLIAS DELIGHT FROM WINTER TO LATE SPRING
Photos taken by Gay Klok at "Kibbenjelok" gardens during August and September, 1998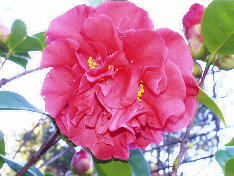 C. reticulta "Crimson Robe" or "Datohong" big flowers may measure 7 inches across
Camellia x "Jury's Yellow" is hard to grow but does very well in a shaded spot at "Kibbenjelok". The centre of the flower is a dark creamy yellow [see below] We broke this plant in half by dropping a branch on it by accident. Taped up immediately, it recovered very rapidly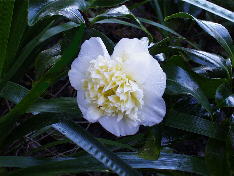 Captain Richard Rawes of the British East India Company brought homes to England this unnamed Camellia which may have come from the famous Fa Tee Nurseries in Canton. It was thus the reticulata was christened. It flowered for the first time in 1826. C.reticulat "Captain Rawes"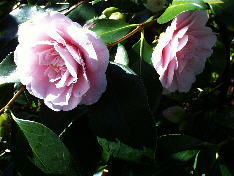 C. "Cara Mia" first bloomed in 1956, early to mid-season, was introduced by the Nuccio's Nurseries of California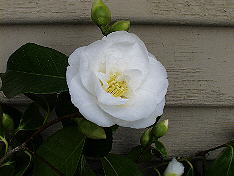 "Whie Nun" is the name of this lovely Camelia of virginal white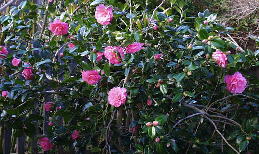 Camellia bush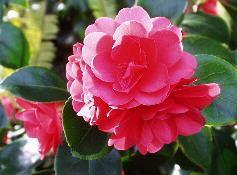 "Elena Noblii", an old Italian Camellia
C. japonica, "Guillo Nuccio" from Nuccio's nursery is a marvellous glowing colour and the petals have a velvety texture and are as large as any reticulata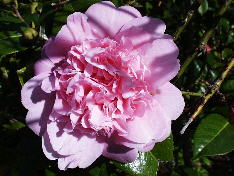 C. "Debutante" is an American japonica of distinct form and large flowers
A young Camellia bush flowerin near a Cherry Tree
C. japonica "Hagaroma" or "Feathered Robe" is a very delicate pale pink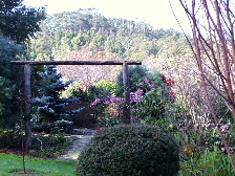 One of the entrances to the Camellia circle at "Kibbenjelok"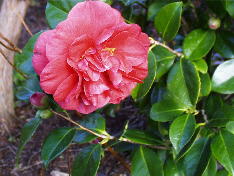 This should be a deeper red than shows here, C. japonica "Grand Slam" is another magnificent Camellia from the Nuccio's Nurseries and has excellent foliage

Please feel free to ask me any questions about these plants using the discussions link. You may only use this area if you are a member of Suite101.com, so think about joining our vigorous garden group. It doesn't cost you anything and we not only learn a lot, we have fun as well
To return to my article and the list of previous articles with lots of photos of the two gardens click here