CHILDREN'S BEDROOM and HALLWAY
photos taken at "Kibbenjelok", the country house and garden, in the year 2000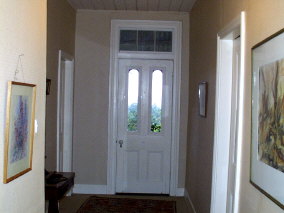 This is the front door nobody uses [except me to empty the teapot onto the Camellia bushes growing beyond the bullnose verandah. When we first saw the house, the front door was a nasty, cheap modern pine door. We found this hung in one of the pickers huts [ the elementary accommodation built for the seasonally hired apple pickers] and it originally had dark red etched glass. On inquiry, we found that it was indeed the original door but the etched glass had been broken by a cricket ball so it was changed with the cheapie off the pickers hut. I do not like the modern colored glass so I replaced it with ordinary panes. That let more light into the hallway. Doors are to the bedrooms and view is the Channel and "Big Pond"



This is where the children sleep when they grow old enough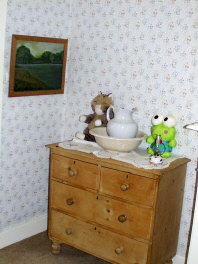 A colonial chest of drawers made from Baltic Pine, a wood that was commonly used by the early Australian settlers. The ceiling in this bedroom is panels of this honey colored wood



SOME BEFORE AND AFTER PHOTOS OF THE HOUSE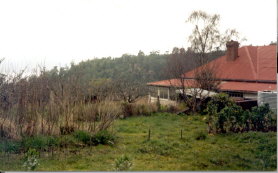 This is taken from the vegetable garden and the windows in the middle is the sunroom or verandah. The tree above the house is the old Birch tree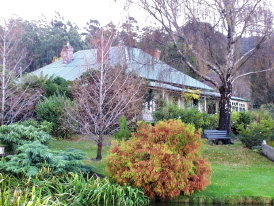 The old Birch tree on the right. Behind the manferns on the left is the children's' bedroom and the windows on the far right are the windows behind which is my computer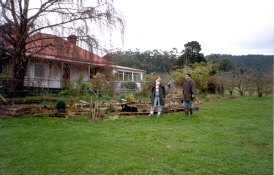 Perhaps eighteen months after purchase, Kees and Francesca standing on where the banks of "Big Pond, Cinderella" now stands



Front of the house. On the left is the bow window of the guest bedroom/front parlor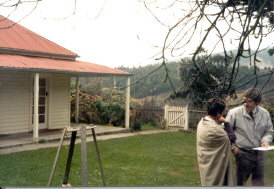 The day we bought, Gay talking to real estate man. On the right is the door into sitting room, with lavatory glass

Write me a letter! Discuss anything! Join up It cost nothing! Have
Fun! Get Information! Give me Information!
Link back to Tasmanian Garden Journal